Will you miss Sydney Penny's Samantha on B&B?


Yes. Penny is a fine actress and her talent was wasted.
53%
No. Samantha never interested me in all her time on B&B.
25%
I will miss seeing Penny, but not Samantha. She was a bore.
12%
Maybe. I am hoping she will return from time to time.
6%
I have no opinion about Penny's exit at this time.
3%
Other
1%
Poll Posted: February 16, 2005
Another high-profile star has been released from their contract with The Bold and the Beautiful. Soap Central has learned that
Sydney Penny
(
Samantha Kelly
) has been bumped to recurring status.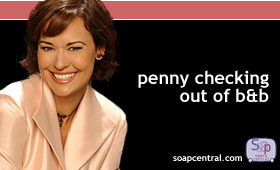 Penny debuted on The Bold and the Beautiful in August 2003. With her arrival, the show's writing team attempted to weave a new family into the show. The efforts, however, backfired when long-time fans felt that their old favorites were being relegated to the back burner in favor of new faces.
Prior to landing on The Bold and the Beautiful, Penny enjoyed a successful run on ABC's
All My Children
where she portrayed
Julia Santos
from 1993 through 1996. She made guest appearances on the show in 1996 and 2002.
With her obligations to the CBS soap now over, Penny is said to be focusing on an upcoming role in the Hallmark Channel's "McBride," a series of mystery tele-movies starring John Larroquette.
A spokesperson for The Bold and the Beautiful declined to comment on Penny's status with the show, stating that it is not network policy to comment on contracts.