Former Guiding Light star MacKenzie Mauzy (ex-Lizzie Spaulding) will join the cast of The Bold and the Beautiful next month in the role of Phoebe Forrester. Mauzy takes over the role previously held by Addison Hoover.
Some B&B fans may already be reading between the lines and wondering about the fate of Phoebe's twin sister, Steffy. Since their debut on the show in 1999, the roles of Phoebe and Steffy have traditionally been played by twins - eight sets, to be exact. No announcement has been made about the role of Steffy Forrester being recast - nor has there been any indication that Mauzy will do double-duty and hold down both roles.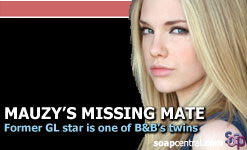 In December, twin stars Addison and Alex Hoover (Phoebe and Steffy Forrester) were downgraded to recurring status. At the time, rumors that the characters would be "aged" made the rounds. A show spokesperson denied the rumors, but stopped short of saying that the roles would be recast.
In addition to her work on Guiding Light from 2000 to 2002, Mauzy has made a guest appearance on CSI: NY and appeared in numerous regional theatre productions. In 1998 Mauzy won the Anna Wentworth Award for "Best Child Actress" for her role as Annie Warbucks in the production of "Annie" at the Showtimers Theatre in Roanoke, Virginia.
Mauzy taped her first scenes on June 7th opposite original cast members Susan Flannery (Stephanie Forrester) and Ronn Moss (Ridge Forrester). She is expected to first air on The Bold and the Beautiful on Monday, July 10th.



Dallas star Linda Gray to make B&B appearance. [Jan 17, 2005]