Fashion shows at The Bold and the Beautiful's Forrester Creations have always been the scene for backstage intrigue, celebrities and high profile drama, but imagine everyone's surprise when it was revealed that the actress who played beautiful Forrester fashion model "Ava" was actually a secret real-life princess!
Natasha Alam held a recurring role as B&B's Ava from 2004 to 2007, appearing in 19 episodes. From 1998 to 2004, she was married to H. H. [His Highness] Prince Amir Ibrahim Alam Pahlavi, a grandchild of the late, deposed Shah of Iran. Despite their divorce, Alam retains the title of "H. H. Princess Amir Ibrahim Alam Pahlavi" and is entitled to use it as she chooses.
In 1979, the exiled Shah received medical treatment in the United States, part of a chain of events involving anti-American sentiment in Iran that eventually led to the hostage situation that crippled the Carter Presidency and contributed significantly to Ronald Reagan's election in 1980.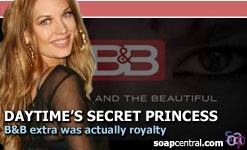 Born Natalia Anatolievna Shimanchuk (Natasha is a common nickname for "Natalia"), Alam grew up in Uzbekistan, which was then part of the USSR. After leaving aviation school without a degree, she met her husband while working as a model for prestigious fashion houses Dior, Gucci, Versace, and Vivienne Westwood. Those modeling gigs eventually led to the acting world of Los Angeles.
Alam had no idea her husband was royal until invitations began arriving in the mail addressed to her royal self, from other royal families such as the Windsors of England.
"...I found out that I am a princess," she explains. "I couldn't believe it."
Falling into acting a few years after her marriage, Alum appeared in television shows such as Fastlane, CSI: Crime Scene Investigation, and NYPD Blue before landing the role of The Bold and the Beautiful's Ava. She has upcoming roles in Death Warrior, also starring Nick Nolte and Armand Assante, and The Women, a remake of the famous 1939 George Cukor film. The 2008 version also stars Eva Mendes, Meg Ryan (ex-Betsy Stewart, As the World Turns), Debra Messing, Jada Pinkett Smith, and Annette Bening.
Natasha Alum also has a spread in an upcoming issue of the men's magazine, Maxim.



Osama bin Laden's mistress served as a writer on a popular soap.