Aaron D. Spears joins cast as Marcus' dad
Aaron D. Spears joins the cast of The Bold and the Beautiful later this month in a role that isn't quite what it appears to be.
Spears will play the contract role of Justin Barber, the executive vice president of Spencer Publications and the right-hand-man to the company's head honcho, Bill Spencer, Jr. Justin is summoned to Los Angeles to help Bill is his hostile takeover bid for Forrester Creations.
As soap fans know, there is often more than meets the eye when it comes to newly introduced characters. And so is the case with Justin.
At this year's B&B Fan Club Weekend luncheon, held the same weekend as the Daytime Emmys, the show finally confirmed what had been speculated -- and first reported on Soap Central -- several weeks earlier: Justin has secret ties to several B&B characters.
"This is my daddy," Texas Battle (Marcus Walton) declared to the group of about 200 supporters of the show as he introduced Spears. "He will be playing my biological dad."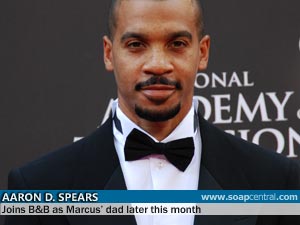 As a special teaser to fans, an upcoming clip of a meeting between Donna and Justin was played for the audience. In the scene, an incredibly uneasy Donna makes small talk with Justin. Donna turns a ghostly white when Justin asks her if she has any children. Donna says that she doesn't, and later collapses on the sofa looking for something to drink.
Spears says that he didn't know the show would reveal his alter ego's true identity so soon.
"That whole thing came up on us at the last minute," the actor tells Soap Central. "I didn't know that they were going to announce it, and then they told us that they wanted to give the fans a little something extra special."
Spears' on-screen son, however, has his own thoughts on the upcoming family reunion.
"We'll see how that goes. Right now my dad is Eric Forrester," Battle said, speaking in character. "I'm more committed to him. I know that my biological dad is coming to the series, but I just don't know how I'm going to accept him."
Still unresolved are questions about whether or not Justin is related to Drucilla Barber Winters, a character on The Young and the Restless. It wouldn't be the first time that B&B and Y&R have shared a character or featured characters with the same last name. When asked if there was a connection, a show source offered a smile and said that anything is possible.
Though this is the first time he's been a contr act player in daytime, Spears does have previous experience on the soaps. In 2004, Spears played a police officer on General Hospital. Spears has numerous primetime appearances under his belt, including guest-starring roles on Boston Legal, Everybody Loves Raymond, The District, and many other programs. He's also appeared in about a dozen feature films.
Spears says that he's enjoying the world of daytime.
"So far it's been great," Spears adds with a smile. "The whole cast and crew has been very welcoming. I'm loving the timeslot. Not too much, not too little - the show's got an international feel to it."
As for the actor himself, Spears has a few surprises of his own.
"I'm a family man. I have a wife and five kids -- ages 16, 7, 4, 2, and in the womb. A lot of people don't think that I'd have five kids." Spears grins.
[Update: Spears and his wife, Estela, welcomed a baby boy on September 9. The little one has not yet been given a name and joins the couple's four other children -- all girls!]
Spears taped his first episode of The Bold and the Beautiful on July 10. He first airs on September 14.