The seemingly innocent elevator is becoming the new hot spot for scary movies -- and two former players from The Bold and the Beautiful are in the thick of things in a feature film that is now in production in Los Angeles.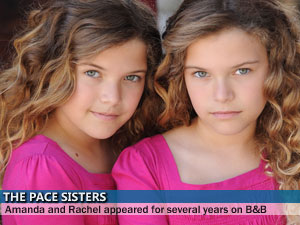 10-year-old twins Rachel and Amanda Pace, who for five seasons played B&B's Hope Logan and Hope Forrester, are featured in the upcoming film, Elevator. In the film, a young girl named Madeline, trapped with a group of strangers in an elevator, looks up at her grandfather and says, with a grimace, "Someone smells bad." It is an uncomfortable moment in a movie filled with increasingly uncomfortable moments, as the audience soon learns that one of the people on the stuck elevator has a bomb, and there appears to be no rescue in site.
"I like how Madeline starts out kind of snotty and doesnít care about anyone else," Amanda said of the film. "I also like how the movie isnít a horror film, but itís still scary and adventurous."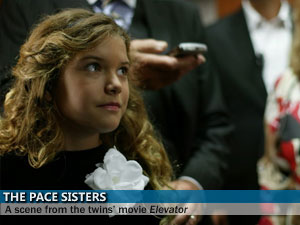 "I just thought it was a great script that would give the girls a chance to show their range of talent," added Jenny Pace, their mother. "They have always played sweet little characters, but here, they get to play a brat."
Amanda and Rachel are taking turns playing Madeline in the film. In addition to their work on B&B, the Pace girls have also appeared on Private Practice and Weeds.
Elevator is the first U.S.-made film by award-winning Norwegian director Stig Svendsen. In addition to Rachel and Amanda Pace, the cast includes John Getz, Shirley Knight, Joey Slotnick, Devin Ratray, and Michael Mercurio.
Elevator is due in theatres sometime in 2011.