It wouldn't be a stretch to call The Bold and the Beautiful's Linsey Godfrey (Caroline Spencer) the luckiest girl in the world. Not only is she currently enjoying a storyline that has her smack dab in the middle of two of the hottest men in daytime -- Thorsten Kaye (Ridge) and Jacob Young (Rick) -- she has her own real life soap stud at home (The Young and the Restless' Robert Adamson [Noah Newman]). One could easily hate her for all of her good fortune, but it's impossible because she's so darn charming -- as is the couple's six-month-old daughter, Aleda, who joined Soap Central's interview with her mom.
It's been a whirlwind past couple of months for Godfrey, who not only was nominated for her very first Daytime Emmy award, but also gave birth to her and Adamson's first child before being tossed back into the soap world as part of a dramatic quadrangle. "They really threw me right into it. My first week back [after maternity leave], I had six episodes to film," she recalls. "But I was so happy, because honestly, I love my job so very much, and I love working."
Though, as the Florida native admits, getting back into the swing of things was made all the easier because she's allowed to bring Aleda with her to work every day. "On my set and on Rob's set, we call [everyone] aunts and uncles; she's spoiled rotten with attention," she shares. "So I'm lucky. I think it would have been a lot harder for me to juggle if I didn't get to see her."
Eventually, baby Aleda will be old enough to stay at home with dad. And luckily, Godfrey says Adamson has really stepped up to the plate when it comes to fatherhood -- even taking diaper duty from time to time. "He's the best dad," she enthuses with a big smile. "As a partner and as a father, he just does everything that I think a person could ever want. He's so loving to her, and he's so loving to me, and he's so excited and willing and wanting to help. He gets up in the middle of the night for me if I'm working [the next day], and he changes diapers, and he wants to play with her. And once a week, they have daddy and Aleda adventure day, where he goes and does something like take a hike with her, just the two of them. He's wonderful."
The couple has shared many adventures with their bundle of joy online, and while many parents might be hesitant over posting personal pics for all the world to see, Godfrey says it's not much of a concern for her and Adamson. "He was worried at first, when we first had Aleda; he was very cautious about not wanting people to see her," she says. "But then I think we both just got over it. We're not saying, 'Oh, we want to post photos of our child on social media.' It's more like we have a picture of her doing something adorable and we kind of just want to share it with everybody. I don't really think twice about it. I know some people... who feel strongly about that, and I totally understand and respect their opinion. I'm just not [that way]. I feel as though it would be different if I was some giant celebrity and paparazzi were following me and trying to sneak photos of my child. I think I'd feel very violated and uncomfortable in that case, but... if it's me or Robert or my family and friends, I'm totally fine with that. I'm proud of her, so it doesn't bother me."
It also doesn't bother the laidback actress when, say, her baby's father posts about being pantsless -- which he did on Twitter a few weeks back with this message: "Got busted having a wine and cheese party by myself in my undies while watching interviews on way too big a TV. by @linseygodfrey #proud?"
"It's kind of like our family thing, and it's ridiculous, but he got it from me," Godfrey admits with a laugh. "It's something he used to make fun of me for all the time. The first thing I do when I get home is take off my pants. And not in like a sexy way, it's just that I hate wearing pants. And he used to make fun of me for it, and now it's the first thing that he does when he gets home, as well. So yeah, if he's home by himself, and he's been there all day, I'll come home and find him doing all kinds of funny things in his underwear."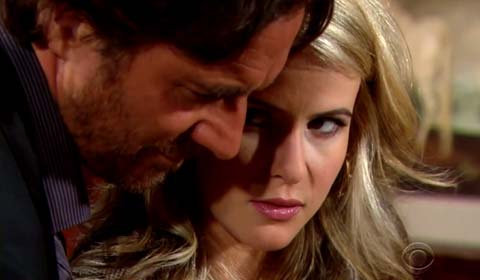 Speaking of undies, there's a definite chance that Ridge could be seeing Caroline's soon enough, considering her marriage is on the rocks and the sparks are definitely still flying between her and the designer. And though the journey of possibly getting to that point includes a bumpy road for Caroline and Rick, Godfrey couldn't be more thrilled. "I think Jacob and I were both just really wanting something to happen so we could both show people what we can do," she says of the couple's recent drama.
Godfrey gives some hints to what is coming. "It's been so much fun to be playful, and we really do love working together. I love Jacob very much. We love our relationship, the relationship of Caroline and Rick together; they're very funny and they're sweet and they're very in love. But when [executive producer/head writer] Brad [Bell] told me they were going to shake things up, and it was going to include Thorsten, and it was also going to include Maya [Karla Mosley], I got really excited. Karla is my most favorite formidable foe, and Thorsten is so awesome. He's such a strong actor, and I was excited to see how the relationship between Ridge and Caroline would develop and what it would turn into, and I think the fans will be very pleased with it. So it was kind of a bittersweet thing. I just said to Jacob today, 'I feel like I haven't seen you in forever!' But I'm excited, because there is so much good stuff about to happen that hasn't aired yet."
At the moment, however, Caroline is trying to make things work with Rick. Even though, as the actress explains, she's much more in love with his brother. "I've said it before, but I think Caroline really is in love with Ridge," she opines. "I think that you have two first loves. You have your first love, and a lot of times, it's when you're kids -- you're a teenager, in high school, and it's your first love, your high school sweetheart. But then you have your real first adult love, and that's different. And I think that Rick was her first love, and Ridge is her first real adult love."
In addition, Godfrey feels as if Ridge has matured her alter ego. "I think that she's not as childish and impetuous," she points out. "And I think that if it were anyone else, the way that Caroline would have handled Rick and Maya would have been petty and childish and whiney and things like that. But you know, this is a woman now. Caroline became a woman with Ridge, and when she confronts Rick, she confronts him as a woman who's been hurt... She did something very small -- not to say she didn't do anything wrong -- but in comparison to what Rick does to her, that's way worse! And she doesn't stand for it, and I think that's because of Ridge. It's because of the confidence that Ridge gave her. Even though she knew Rick loved her, she's very insecure with Rick and she's very secure with Ridge, and I like that. I like that change in this character a lot, and I like playing that."
Some have noticed that Caroline blossomed into a woman right alongside Godfrey blossoming into motherhood, and it's a synchronized journey that hasn't been lost on the actress. "Having a baby has made me feel so secure in myself, and things that would normally wreck my whole world and make me freak out about, I don't even think twice about, nor do I care about them anymore, and it's great," she comments about her own confidence rising like Caroline's. "[Becoming a mom] has changed me in a very good way, and I think Ridge has changed Caroline in a really good way, and it's really interesting that they've coincided."
Unfortunately, her alter ego's new self-confidence doesn't translate into a heightened state of awareness, as Caroline remains completely blind to Rick's selfish side. "She is so unaware," Godfrey laughs about the character having no idea that her husband is secretly seeing Maya and only staying married to her to keep his position as CEO. "She genuinely thinks that this whole thing is her fault, and he's giving her a second chance, and she's trying to do what's right. Caroline... believes in doing what's right, and she doesn't always do what's right, but she does what she thinks is right. And she thinks that she made this commitment to him, that she was in love with him, and she's trying to do what's right. So the fact that he's doing anything malicious or having any mal-intent or the fact that he's sneaking around is completely lost on Caroline. If or when this all comes to a head, Caroline will be absolutely blindsided."
Add to that some catfights with Mosley's Maya, and it looks as if Caroline is headed for rough waters. "We love playing enemies, and it's so funny, because Kimberly [Matula, Hope] and I could never play enemies. There was no chance," the actress reveals. "They tried for like a day and then changed everything and went in a completely opposite direction. We couldn't keep a straight face. We just couldn't. They tried once, way back when. They tried to make us enemies over Thomas [Adam Gregory], and we laughed for half an episode because we just could not keep it together. But Karla and I, we love playing enemies, and I don't know what it is, but we have so much fun doing it."
Which may be a good thing, considering there's a definite chance Caroline will face double the drama when Maya's little sister, Nicole, drops into town this January. "She's a sweetheart," Godfrey raves of the new character's portrayer, Reign Edwards. "I'm excited to see what they do with the character and where this is all going to go and what kind of trouble it stirs up, because when someone comes to town, it's always going to cause some trouble for somebody!"
No matter what's in store for Caroline's future, the actress is happy to be a part of The Bold and the Beautiful. And she'd be even happier if she were given the opportunity to travel with the show like some of her costars. "I really want to go to South Africa and Australia. I've been campaigning for that since I came on the show," she says, adding that all it would take is one good connection. "We have Ivy, so Ashleigh [Brewer] is a connection. And Ridge has been to South Africa before with characters past, so those are my hopes. I'm linked up right now, because Ivy and Caroline are close, and now Ridge and Caroline are close, so let's make this happen! Then I really would be the world's luckiest girl."
Do you enjoy seeing Caroline and Maya square off? What story would you like to see play out for Caroline? We want to hear from you -- and there are many ways you can share your thoughts.