Shauna Fulton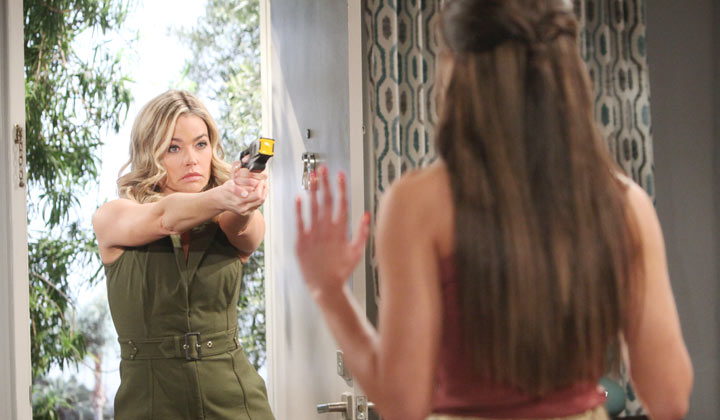 Unemployed
Worked at a small Las Vegas casino boutique
Has a background in marketing
Former showgirl
Reese Buckingham's apartment, Los Angeles, CA
Formerly the Forrester Guest House (369 Willow Hill Rd., Beverly Hills, CA)
Formerly a condo in Las Vegas, NV
Formerly the Forrester Mansion (369 Willow Hill Rd., Beverly Hills, CA)
Single
None known
None known
Florence Fulton (daughter; with Storm Logan; 1990s)
Stephen "Storm" Logan, Jr. (deceased)
Ridge Forrester (kissed)
Held a stun gun on Zoe Buckingham [2019]
Complicit in keeping secret the theft of Hope Logan's baby by Reese Buckingham [2019]
Kissed the married Ridge Forrester [2019]
Slapped by Brooke Logan [2019, 2020]
Shauna Fulton is a Las Vegas casino boutique employee and a single mother to her daughter, Florence Fulton. Shauna never told Flo who her father was, including when Flo turned up in Los Angeles and called with questions about her parentage. Flo soon came to L.A. herself and ran into old friend Quinn Fuller, whose son, Wyatt Fuller, was Flo's high school sweetheart. Shauna became nervous when Wyatt started helping Flo find her father, but Shauna's greatest fear was that Flo's father was Bill Spencer, with whom she'd had a quick fling in Vegas; as Bill was Wyatt's father, it would have made Flo and Wyatt brother and sister. However, Shauna breathed easy when an online DNA test revealed that Flo's father was Storm Logan, a visiting L.A. lawyer with whom she'd also shared a brief relationship. Shauna admitted she'd been embarrassed to tell Flo she'd gone all those years not knowing who fathered her child; Shauna was disheartened when she and Flo learned that Storm had died many years earlier.
Shauna wanted answers when she heard Flo's new family talking about the baby Flo had given up for adoption. Knowing Flo hadn't been pregnant, Shauna was surprised to hear Flo admit she had gotten mixed up in an illegal baby adoption orchestrated by a former lover, Reese Buckingham, and posed as the infant's birth mother. Moreover, the child in question had belonged to Hope Logan, who turned out to be Flo's cousin and thought her baby was dead. Shauna exhorted Flo to keep quiet, but when Shauna walked in to find Flo knocked unconscious after a struggle with Reese's daughter, Zoe Buckingham, Shauna pulled a stun gun on Zoe. The situation diffused, Shauna declared she, Zoe, and Flo would form a pact to bury the secret about Hope's baby being alive because Flo wanted to tell Hope the truth.
Shauna advised Flo to take advantage of her identity as a Logan; when Hope offered Flo a job at design house Forrester Creations, Shauna tagged along and repeatedly talked over Flo, managing to try on an original Forrester gown in the bargain. Later, Shauna agreed to help Bill's ex-wife, Katie Logan, test Bill's newfound devotion to Katie by coming on to Bill; Shauna got Bill to kiss her, but was ultimately glad when Bill put a stop to things and declared he was in love with Katie.
Shauna was said to have driven back to Las Vegas to retrieve the rest of her belongings, but she came back a month later with news that she was moving back to Vegas for good, feeling that it was too dangerous for her and Flo to keep discussing Beth's true parentage. Shauna left comforted by the fact that Wyatt had just asked Flo to move in with him. Shauna soon paid a visit and learned that Hope's new husband, Thomas Forrester, had pried the secret out of Flo and was menacing her into staying mum; Shauna suggested Flo maintain the status quo to keep Thomas calm. However, when the baby switch came out and Shauna's part in covering it up came to light, Shauna had to face the wrath of her daughter's new family and continually insisted Flo didn't know Reese had stolen Hope's baby until she was too deeply involved.
Shauna got nowhere trying to get help for the incarcerated Flo; Shauna even faced a refusal from her dearest friend, Quinn. Shauna couldn't believe it when Flo received immunity and was released for helping the LAPD out with a related case; when Shauna found out Flo's release had been authorized by Thomas' father, Ridge Forrester, Shauna thanked Ridge profusely. Shauna later went to a bar and found Ridge, who was drinking heavily after a fight with his wife, Brooke Logan, over Thomas' part in the baby switch. Shauna took Ridge to a room above the bar and put him to bed, sneaking in a kiss after he passed out. The next morning, Shauna told the hungover Ridge that their having slept in the same bed was their secret and offered Ridge her friendship.
Shauna told Flo she was crushing hard on Ridge, but got smacked in the face when Brooke found out about her night with him. When Shauna and Flo found out Katie needed a kidney transplant, Shauna supported Flo's idea to donate a kidney herself and campaigned for her daughter when only Katie and her sister, Donna Logan, were willing to forgive Flo after the successful surgery. Shauna found an unexpected ally in Thomas and got his approval to pursue Ridge. Deciding Flo needed space, Shauna took Quinn up on her offer to stay at the Forrester guest house, only to be awakened by Ridge sliding into bed after another argument with Brooke. Shauna and Ridge laughed over the situation and the fact that Shauna had donned jammies and a beauty mask, then kissed and again slept next to each other non-sexually. Shauna divulged her canoodling with Ridge to Quinn and was surprised to learn that Quinn and Ridge had once flirted similarly.
Shauna got into another confrontation with Brooke after Ridge told Brooke about their kisses. Shauna was shocked enough when Brooke slapped her again, but she was downright stunned when Quinn smacked Brooke back in front of her and basically declared war on Brooke for antagonizing her friend. Shauna moved back in with Flo when Quinn's husband, Eric Forrester, sided with Brooke about Shauna staying in his guest house so close to Ridge.

Post a Comment

Share on Facebook

Tweet this

Submit Feedback