Sean Kanan is returning to daytime television. The actor, who played General Hospital's AJ Quartermaine from 1993 to 1997, will join the cast of The Bold and the Beautiful.
Kanan admits that he isn't really familiar with his character or the storylines that he'll be involved in on B&B. Fortunately, though, we have a little more information.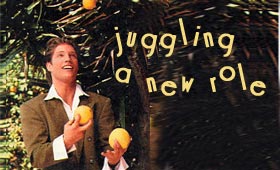 Kanan debuts November 1st as Deacon Sharpe, the biological father of Little Eric.
This is not Kanan's first daytime gig since leaving General Hospital. He also appeared as Jude Cavanaugh on Sunset Beach from August 1999 through the show's finale in December of the same year. Kanan says that he didn't expect to make a return to daytime television --- at least not right now.
According to sources at B&B, Kanan's contract with The Bold and the Beautiful allows him time off to shoot films. Recently, Kanan wrapped a role in the movie March.