This week marks a major turning point for The Bold and the Beautiful. On May 28th, the CBS soap, arguably the most popular daytime drama in the world, begins broadcasting in Spanish via the Second Audio Program feature available on most new television sets.
The decision to simulcast B&B in Spanish is a carefully crafted and perhaps business-savvy move. Until now, no American daytime dramas have broadcast on US airwaves in a language other than English. American soaps are, however, subtitled or dubbed into foreign languages for broadcast abroad. Any American viewer wanting to see a "live" airing of a Spanish soap opera would have had to tune to Univision or Telemundo, two Spanish language cable channels.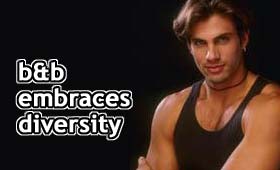 New census figures put the Hispanic population in the United States at 35 million, a huge increase over previous census figures. "This is a growing audience to which attention must be paid," notes head of CBS daytime programming Lucy Johnson. Johnson says that CBS has been mulling the decision top simulcast in Spanish for nearly five years.
In addition to the audio changes, B&B will also be diversifying its on-screen appearance. Two Latino characters, fashion designer Antonio Dominguez and model Sofia Alonso, will be incorporated into the cast beginning this week.
Colombian native Paulo Benedeti will play Dominguez. Soap viewers may remember him for his work as Jesse Blue on Guiding Light. Alonso will be played by Argentine model Sandra Vidal.
Some critics have questioned whether or not B&B is trying to boost its ratings by "tokenism," adding Latino characters to gain viewers without really utilizing the characters in a manner consistent with Caucasian characters.
"I never thought of it as tokenism," says Benedeti. "I saw it as an opportunity to play what I am. It's nice for a chance to be able to play a Latin character."
Vidal concurs. "Finally, Latins are being represented in sophisticated roles. Usually we play the maids and the cooks. The world will now see that we are intelligent and sophisticated."
Emmy winner Susan Flannery (Stephanie Forrester) refuses to call the move by CBS "exploitative."
"It is merely reaching out to a new audience. There has been an extraordinary shift in population in this country and you have to recognize it," Flannery remarks.
The Bold and the Beautiful's first Spanish simulcast is slated for May 28th. The show will be known as Belleza y Poder (or Beauty and Power) in its Spanish tongue. Vidal and Benedeti both make their debut the following day, May 29th.