It's the news fans of The Bold and the Beautiful have been waiting to hear: Bobbie Eakes will reprise her role as Macy Alexander on the show.
It's the new fans of The Bold and the Beautiful have been dreading: Bobbie Eakes will not be returning to the show on a permanent basis.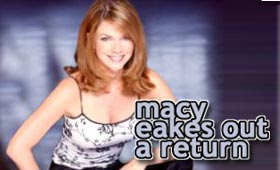 Yes, it's a good news, bad news situation for B&B fans. Rumored for months, B&B set sources are now confirming that Eakes will return to the show this month. The return is said to be a two-day appearance - but the method of the return should give Macy fans some reason to celebrate.
Eakes exited the show last summer when Macy was presumed dead in a fiery explosion. However, in the scenes preceding the big blast, a lady trucker was seen frantically trying to extricate Macy from the car wreckage. In January of this year, Adam Alexander appeared on his daughter Kimberly's doorstep and asked her to run away with him. Kimberly is also Macy's half-sister. Adam promised his daughter that if she agreed, she would receive "something so wonderfully miraculous."
According to a B&B source, Eakes will return as a vision... and angel - not a ghost. In fact, it is said that the show went out of its way to avoid any references to Macy's "death," just in case Eakes does decide to return to the show on a long-term basis.
It appears that the decision to return would have to be made by Eakes. Show execs are reportedly waiting for the day that the actress calls them to say that she wants back in. It is unclear is Eakes is ready to return to the rigors of daytime television. This two-day return to B&B will be Eakes first daytime appearance since a non-speaking part on Days of our Lives in February of this year.
Eakes makes her return to B&B on August 1st and 2nd.