According to a report from an insider within The Bold and the Beautiful, CBS is actively trying to woo actress Hunter Tylo (Taylor Forrester) back to the bargaining table. As reported earlier this month, Tylo broke off contract talks with the show when she was reportedly told that she'd have to take a pay cut.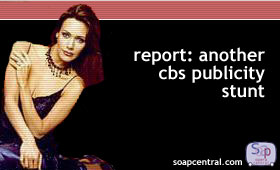 Now, however, at least one insider has hinted that Tylo's contract troubles with B&B are nearly identical to those of The Young and the Restless' Melody Thomas Scott (Nikki Newman). Earlier this year, Scott and Y&R could not come to terms on a new contract - and Scott was said to have moved all of her belongings out of her dressing room. An official statement said that the actress had quit. A matter of days later, though, a CBS spokesperson denied that Scott had left and insisted that the actress had signed a new contract. For the record, Scott has renewed her contract with Y&R and made her return to the airwaves earlier this month.
Officially, Tylo's web site states that the bargaining has ended and that the actress has already begun to seek out feature film and primetime opportunities. For its part, CBS has declined to comment on the reports or confirm that Tylo is leaving the show.