If you listen to Internet chatter, you might believe that half of the male cast of The Bold and the Beautiful has been let go. Soap Opera Central, however, has done some digging and has been able to uncover which of the rumors are true and which are nothing more than idle chatter.
An article posted on a popular television web site last week indicated that Sean Kanan (Deacon Sharpe) had been fired from the show. Within a matter or hours, the web site retracted its original story. According to Kanan's rep, the actor is still with the show and any reports to the contrary are untrue. Kanan has been working on projects outside of The Bold and the Beautiful, but the actor will remain with the show. In fact, in July, Kanan signed a contract extension - reportedly for two years - with the show.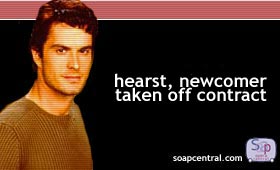 Other 'net rumors had Rick Hearst (Whipple Jones) being served with walking papers. A show spokesperson confirms that Hearst has been removed from contract. Hearst remained on board for several days following his downgrade.
Rick Hearst makes his final airdate on The Bold and the Beautiful on August 29th.
Hearst was signed to The Bold and the Beautiful after a critically-acclaimed run on sister soap The Young and the Restless as the diabolical Carter Mills. There are rumblings that the actor could make a return to Guiding Light, where he played Alan-Michael Spaulding from 1990 to 1996. A spokesperson for Guiding Light declined to comment on the rumors.
Another casting change comes in the downgrading of Matt Borlenghi (Ziggy) to recurring status.
Borlenghi and Hearst are relative newcomers to The Bold and the Beautiful, with both having joined the cast earlier this year.