The Bold and the Beautiful has bolstered its cast by signing too well-known actors who are no strangers to daytime.
Veteran actor Jack Wagner has been signed to play a mysterious sea captain by the name of Dominick Payne. Dominick is employed by Massimo Marone, played by Joseph Mascolo, but there are conflicting reports as to whether or not Dominick will be Massimo's former stepson as previously reported by internet sources.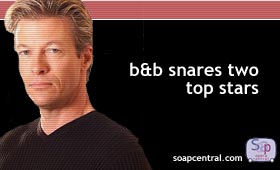 B&B has also confirmed that Lesley-Anne Down has been cast as Dominick's mother, "Jackie." Whereas it had been planned to have this character be Massimo's ex-wife, it is now hinted that Jackie, whose name may changed by airtime, will be Massimo's ex-girlfriend. Down was previously seen on NBC's Sunset Beach, where she played Olivia Richards. The actress is also well known for her role in the epic miniseries North and South.
Outside of the genetic speculation, there is also talk among insiders that Wagner's character will be a love interest for Brooke.
Fans of daytime television and primetime television are no doubt familiar with at least one of Wagner's roles. In 1983, Wagner starred as Frisco Jones on ABC's General Hospital. For much of the 80s and a portion of the 90s, Wagner starred opposite his wife. Kristina Wagner, from who he had recently been separated. The pair is on the road to reconciliation. From 1994 to 1999 Wagner appeared on the FOX primetime soap, Melrose Place. Wagner has also made appearances on the now-cancelled daytime dramas, Sunset Beach and Santa Barbara.
While he hasn't yet made his first on-screen appearance, Wagner is already the subject of Internet chatter. Some internet sites have speculated that the recent wave of cast cuts (click here for additional information) was done to facilitate the necessary salary for a star of Wagner's caliber.
Wagner is scheduled to make his first appearance on-air on March 27. Down makes her first B&B appearance on April 1.