Multiple Emmy winner Susan Flannery (Stephanie Forrester) has ended the speculation surrounding her future with CBS's The Bold and the Beautiful. The actress recently extended her contract with the show.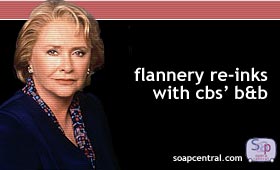 In a published report in I this month, an insider told the publication that Flannery "has made no bones" about wanting to retire from acting. The article set off a wave of Internet discussion regarding the actress' future with the show. With fan favorite Bobbie Eakes (ex-Macy Forrester) having been taken off contract and landing a role at ABC's All My Children and back-to-back Emmy winner Jennifer Finnigan (Bridget Forrester) announcing that she would not re-sign her contract when it expires in 2004, some fans were beginning to fear the worst.
Earlier this month, Flannery signed a two-year contract extension with the soap she's called home since the show's debut in 1987. Flannery's work on The Bold and the Beautiful has earned her three Daytime Emmy Awards for Outstanding Lead Actress. In addition to her Emmy wins in 2000, 2002 and 2003, Flannery also took home gold in 1975 for her portrayal of Laura Horton on NBC's Days of our Lives.
Even with Flannery reinking with The Bold and the Beautiful, one setside source indicates that this might not mean that Flannery is planning to stick around for the full two years of her contract. The source tells Soap Central that Flannery wants to allow the show's writing staff to work a plausible exit for her character.
In the event that Flannery does leave B&B, it doesn't mean that she won't still be leaving her own personal mark on the show. In addition to her acting work on The Bold and the Beautiful, in recent years Flannery has also served as a director for the show. Backstage at this year's Emmys, Flannery was hard-pressed to decide which she enjoyed more. In the end, however, Flannery did admit that she favors the director cap she wears.