The Bold and the Beautiful will once again be visiting Dallas. But don't expect to see prairies and cattle farms, because the CBS soap will not be doing an on-location shoot. Former primetime soap star Patrick Duffy (ex-Bobby Ewing) will be joining the cast next month. And no, this is not a dream.
B&B head writer and executive producer Bradley Bell has been hinting in recent weeks that he wanted to cast two "big name" stars for some upcoming new roles. Last month, Soap Central reported that former Saved By The Bell star Mario Lopez would join the cast in the contract role of Christian Ramirez. [For more information, click here.]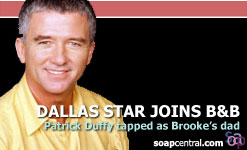 Duffy will take on the short-term role of Stephen Logan, Brooke's errant father. The role of Stephen was most recently held by actor Robert Pine. Pine was last seen on-screen in 2001 and had a handful of appearances in 1988, 1994, 1996, 1997 and 2000.
In addition to his 12-year run on Dallas, Duffy is also well-known for his work on the sitcom, Step By Step. However, the actor has appeared in numerous guest-starring roles on such programs as Charlie's Angels, The Love Boat and Touched By An Angel.
This is not the first time that a former Dallas star has appeared on The Bold and the Beautiful. Linda Gray (ex-Suellen Ewing) appeared as Priscilla Kelly in a handful of episodes in 2005. CBS execs also reportedly wanted Larry Hagman (ex-JR Ewing) to make a cameo appearance, but were unable to work out a scheduling conflict.
Duffy taped his first B&B scenes on March 7th. His first on-screen appearance is April 18th.

NEWS ARCHIVES
Dallas star Linda Gray to make B&B appearance. [Jan 17, 2005]
---