It's been only a few months since former Save By the Bell star Mario Lopez (Christian Ramirez) joined the cast of The Bold and the Beautiful. However, the heartthrob's on-screen time has been non-existent and the show has now confirmed that the actor has been let go.
According to a show spokesperson, Lopez and B&B reached a mutual decision to part ways. The agreement will allow Lopez to pursue other projects. The actor is already rumored to be up for a spot on the next round of ABC's Dancing With the Stars.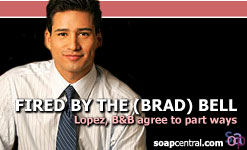 "Mario was a joy to have as part of the B&B family," said executive producer and head writer Bradley Bell. "He has done an excellent job. We wish him well in his future endeavors and one day, Christian could show up again."
Lopez debuted on The Bold and the Beautiful on March 20th. The actor has already taped his final on-screen appearance, but a final airdate was not made available by the show. The final appearance is, however, expected to air mid-July.
Meanwhile, though rumored to be on his way out, Soap Central has learned that Lorenzo Lamas (Hector Ramirez) will be remaining on B&B. The actor, who plays Lopez's on-screen brother, will be featured in a major storyline this summer.