How do you feel about Y&R's Ashley setting up shop on B&B?

Eileen Davidson is a great actress and will be a huge asset to B&B.
42%
I am not really a fan of Davidson or Ashley, so this is a bad move to me.
32%
I'm a fan of Ashley and glad that the character will live on somewhere.
10%
I am a fan of Davidson on Y&R, but I there's no need for her on B&B.
7%
I have no opinion about Davidson's addition to the B&B cast.
5%
I have to admit that I was really hoping Davidson would return to DAYS.
3%
Other
1%
Poll Posted: February 7, 2007
For most people, being fired from a job brings with it a whole host of lifestyle changes. That will not be the case for one daytime star. Despite being fired from
The Young and the Restless
late last year,
Eileen Davidson
(
Ashley Abbott
) will still be reporting to CBS's Los Angeles studios and she will still find herself being called "Ashley" on a daily basis.
Davidson has been hired by Y&R's spin-off sister soap, The Bold and the Beautiful. In an ironic twist of fate, the B&B deal was closed on the same day that she made her final Y&R on-air appearance.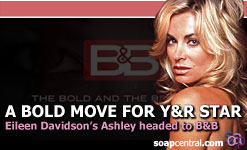 "Eileen is an extraordinary actress with an unlimited range of talent," B&B executive producer and head writer Bradley Bell said in a statement. "It is my pleasure to welcome her to B&B. The character of Ashley will arrive in Los Angeles at the request of Brooke Forrester (Katherine Kelly Lang) when she asks her to create a new fragrance line for Forrester Originals. Things will heat up within the family when it comes to light that Ashley has had a secret relationship with one of our core characters."
Having Ashley crossover from The Young and the Restless to The Bold and the Beautiful is not a new concept for the two CBS soaps. B&B's Eric Forrester appeared on Y&R as recently as last year and Lauren Fenmore and Sheila Carter have jumped back and forth between the two soaps on several occasions.
Davidson's dismissal from The Young and the Restless inspired a lot of internet speculation. Many fans hoped that the actress would return to her old stomping grounds at Days of our Lives, where she had played several characters in the 1990s. The rumors found traction when DAYS penned a story involving the son of one of Davidson's characters, Susan Banks.
It is unclear if DAYS would have eventually expressed an interest in Davidson once learning of her availability; the offer from B&B reportedly happened so quickly that no other shows had a chance to even court the actress.
Davidson originated the role of Ashley on The Young and the Restless in 1982 and remained a core part of the Y&R cast through 1989. The actress then jumped networks and enjoyed a two-year run on NBC's Santa Barbara. After the cancellation of Santa Barbara, Davidson remained with the network and set a daytime television record: she appeared simultaneously as five - yes, five - different characters on Days of our Lives. For her work on DAYS, Davidson was nominated for her first Daytime Emmy in the Outstanding Lead Actress field. Davidson's stint on DAYS lasted from 1993 through 1998. She then returned to Y&R in 1999 and remained with the show through 2006.
Davidson will first air on The Bold and the Beautiful on March 9th.