Over the past few years, Susan Flannery (Stephanie Forrester) has spoken of her eventual retirement from the acting world, but perhaps never so plainly as in a recent interview with an Australian news program. After spending the last 21 years of her life as alter-ego Stephanie Forrester, the 68-year-old Flannery is now looking forward to a future that does not include filming more than 200 shows a year.
Retirement is a wrenching thing to think about for both Flannery and her fans. Stephanie is a cornerstone character of the 30-minute CBS soap, and Flannery feels a responsibility to respect her loyal audience's passion for the character.
"I hadn't thought of it in those terms, because I'd like to leave in another year or so," she explained to Australia's Ten Network. She smiles regretfully and adds, "but now [that it's been brought up], I might have to really think that through."
Despite her consideration for her fans, she is resolved to leave and move on to the next phase of her life.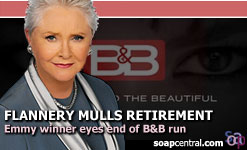 "You know, you're in the grave a long time, and it's nice to be able to do other things, so I'm seriously considering it," she says.
Travel is a big interest. Flannery would like to take her daughter on a safari as soon as Kenya becomes safe for travelers again. She also sails enthusiastically, and is a gourmet cook with a real wood-burning pizza oven in her kitchen at home. The thought of being able to throw more pizza parties for her friends is very attractive to her. Her daughter moved to Australia two years ago, and is now enrolled as a student at a university there. There is no doubt Flannery would enjoy the freedom to visit often.
Not seeing her co-workers on the set every day would be difficult. The atmosphere on the set is very congenial and close.
What are your thoughts on B&B without Susan Flannery?

I don't even want to think about it. I can't imagine a Flannery-less B&B!
45%
I don't really like Stephanie that much, so I think B&B would be fine.
24%
It'd be horrible, but I don't want to be selfish. She's earned retirement.
21%
It might be hard, but if Flannery leaves B&B should recast Stephanie.
5%
Retirement is a few years off... maybe she will change her mind.
3%
I have no opinion on Flannery's possible retirement at this time.
2%
Other
1%
Poll Posted: February 20, 2008
"The four of us have been there from day one -- Katherine Kelly Lang, Ronn Moss, John McCook and myself -- and this is boring, but in 21 years, we've never had a cross word between us."
Flannery is also aware of her good fortune in being a working actress over the age of 40, and the significance of Stephanie's mature presence for her fans. There are few female characters on soaps-or any other television genre-that are Stephanie's equal. What may be her final role has been a wonderful capstone on equally remarkable career.
"I feel so fortunate," Flannery concludes. "As a child, as a young person, you dream that you want to do something, then you get to do it with you life and you really enjoy it. It's truly something to savor."
Flannery bowed on The Bold and the Beautiful in the show's very first episode on March 23rd, 1987. During her run with the show she has won an amazing three Daytime Emmys for Outstanding Lead Actress. Add in an Emmy she received in 1975 for her work as Laura Horton on Days of Our Lives and Flannery becomes one of the most lauded actresses in the history of the soaps.