Storied writer Kay Alden has been named co-head writer of The Bold and the Beautiful, a show spokesperson confirms to Soap Central. In her new role with the CBS soap, Alden will share head writing duties with Bradley P. Bell, who, in addition to being the show's executive producer, serves as head writer.
Alden started her career in daytime television as a script writer for The Young and the Restless in 1974. She would remain with the show for the next 32 years, including an eight-year run as head writer. After six years as a script writer, Alden started working her way up through the ranks of the show's writing team. On the way to the helm, Alden served as breakdown writer, script editor and associate head writer. In 1998, Alden was elevated to the top spot at the top-rated show.
During her tenure as head writer of The Young and the Restless, Alden tallied an impressive list of accomplishments. The Young and the Restless notched more than 400 weeks as the number one-rated daytime drama series and Alden earned four Daytime Emmys -- two each for Outstanding Drama Series and Outstanding Writing Team.
In 2006, Alden was relieved of her duties with Y&R. Though still ranked atop the Nielsen ratings, Y&R saw a sizeable erosion of its audience and the network was looking to make some changes.
Shortly after being dismissed from The Young and the Restless, Alden was hired by ABC to serve as a story consultant for its three soaps: All My Children, One Life to Live, and General Hospital. Alden was with the network for less than six months.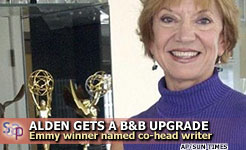 In August 2007, Alden returned to a more familiar network -- CBS -- to work as associate head writer on Y&R's sister soap, The Bold and the Beautiful. It marked a continuation of the relationship that Alden shared with the Bell family. William J. Bell and his wife, Lee Phillip Bell, created both The Young and the Restless and The Bold and the Beautiful. Their son, Bradley, helms B&B and the couple's daughter, Lauralee, appeared as Christine Williams on Y&R for more than a decade.
During the 90-day work stoppage by the Writers Guild of America, Alden took financial core status and worked as head writer for B&B. After the strike ended, Alden returned to her post as associate head writer.