The Bold and the Beautiful has latched on to another recently ousted star from its sister soap, The Young and the Restless. Long-time Y&R veteran, Don Diamont (ex-Brad Carlton), will join the cast of B&B this spring -- but not in the role that made him a household name.
Diamont will play the newly created role of Bill Spencer, Jr. As the name implies, Bill is the son of William Spencer, played from 1987 to 1994 by actor Jim Storm. Bill arrives in Los Angeles following the sudden death of his publishing tycoon dad. Bill is also the brother of twins Caroline and Karen Spencer, but has never been previously mentioned on the show.
"Don is a versatile actor with a vast range of talent," B&B's executive producer and head writer, Bradley P. Bell, said in a statement "It is my pleasure to welcome him to B&B."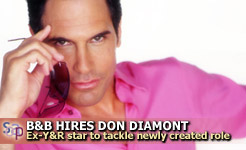 Diamont joined the cast of The Young and the Restless in 1984 and remained a central player through 1995, when the actor took a three-year break from the show. During that daytime hiatus, Diamont completed several feature films before returning to Genoa City in June 1998. The Young and the Restless viewers were stunned when, late last year, it was announced that Diamont would be leaving the show that he'd called home for nearly 25 years.
Immediately, fans hoped that The Bold and the Beautiful would hire Diamont the way that it had hired the actor's former co-star, Eileen Davidson (Ashley Abbott), when she was released by Y&R in 2007. It became clear earlier this year that B&B would not get a chance to rescue Brad; the character was found dead in a lake, trapped beneath a layer of ice.
This will not be the first time that Diamont has appeared on The Bold and the Beautiful. In 1993, the actor appeared briefly as Brad Carlton.
Diamont's first tape date is Monday, March 16 and his first air date is Tuesday, May 12.