One of the most popular actresses from The Bold and the Beautiful's past will be returning next month as part of a special two-day event. Original cast member Joanna Johnson returns as Karen Spencer
"Joanna has been such a significant part of B&B's twenty-two-year history," Executive Producer and Head Writer Bradley Bell said in a statement. "I am excited to have her back to reprise this role. Karen's return to Los Angeles after the death of her father, Bill Spencer, Sr. will have a dramatic impact on the lives of many characters and will lead the Forresters, Logans and Marones into unchartered and exciting new territory during May Sweeps."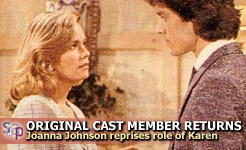 Johnson originated the role of Caroline Spencer on The Bold and the Beautiful in 1987. She remained with the show through 1990, when Caroline lost her battle with cancer. In 1991, Johnson returned to B&B as Karen Spencer, Carolyn's long-lost twin sister. In her second go-round, Johnson remained with the show for another three years. Johnson returned briefly in 2000 as the ghost of Caroline.
Since leaving The Bold and the Beautiful in 1994, Johnson has been pursuing a career on the other side of the camera as a television writer. Using her real-life as an inspiration, Johnson created the hit sitcom, Hope & Faith, based on her life after leaving B&B. In addition to creating the series, Johnson also served as executive producer on the series. The sitcom aired on ABC from 2003 to 2006.
Other behind-the-scenes credits boasted by Johnson are as associate producer on the Peter Berg film Very Bad Things, starring Cameron Diaz and Jeremy Pivens. Additionally, Johnson wrote the screenplay, The Shrink is In, starring Courtney Cox and David Arquette.
Johnson has already taped the episodes in which she will appear. Those shows will air Tuesday, April 28 and Wednesday, April 29.



Former Y&R star, Don Diamont, lands role as B&B's Bill Spencer, Jr.