The economy is bad -- even for the stars of your favorite daytime drama series. Celebrity gossip site, TMZ.com, is reporting that one star of The Bold and the Beautiful is in a heap of trouble over a leased luxury car.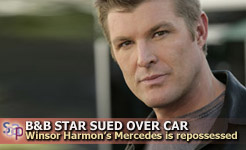 Winsor Harmon (Thorne Forrester) recently had his $80,000 Mercedes Benz repossessed because he "allegedly skipped out on lease payments." The lawsuit, filed by Daimler Chrysler Financial Services in Los Angeles County Superior Court, claims that Winsor Dewey Harmon III owes more than $30,000 on the 2006 model year car plus interest totaling another $5,129.24.
Harmon joined the cast of The Bold and the Beautiful in December 1996 fresh from a one-year run as Del Henry on ABC's All My Children. The AMC role was Harmon's first television gig. His current contract with B&B reportedly expires this fall.
Calls to Harmon's reps were not returned.