The Bold and the Beautiful has hired former Guiding Light star Zack Conroy for a newly created role. Conroy will interact with the recently "aged" Hope Logan. According to show sources, Conroy will play Oliver, a disc jockey who will reportedly be involved in a romance with recently aged Hope. He shares ties to another character already on the canvas: he's Sandy Sommers' little brother.
Conroy joined Guiding Light as James Spaulding near the end of the show's incredible 72-year run. Prior to joining Guiding Light, Conroy had a short run on GL's sister soap, As the World Turns, in 2008 and on the CW's Gossip Girl. Conroy has also done modeling work for Kenneth Cole and for the cover of teen novels.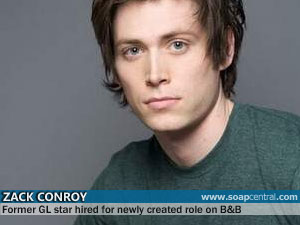 As previously reported by Soap Central, newcomer Kimberly Matula has been cast in the contract role of the now-teenaged Hope Logan, the daughter of Brooke Logan and her bad-boy son-in-law Deacon Sharpe. Hope was born on-screen in 2002, but show execs decided that aging the character would allow the show to "play a broader range of the Forrester vs. Logan story."
Matula will first air in mid-January. A first airdate has not yet been announced for Conroy.
Photo Credit: CBS