On March 23, 2010, The Bold and the Beautiful will mark its 23rd anniversary. Currently the "youngest" of the soaps being broadcast, the CBS series has amassed numerous honors in its time on the air.
Since its premiere on March 23, 1987, The Bold and the Beautiful has received 143 Daytime Emmy nominations and 41 Daytime Emmy wins, including its first for Outstanding Daytime Drama Series in 2009.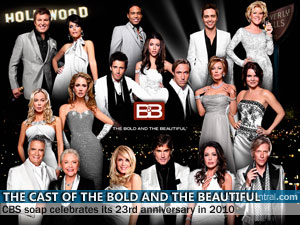 While the show is popular in the United States, where it's been ranked as the second-most-watched soap for some time, B&B is even more popular around the globe. In 2009, the show was the recipient of the Golden Nymph Award in the "Telenovela/Soap Opera" category at the Monte Carlo Television Festival awards. It marked the fourth consecutive year that the show earned the award, which honors the most-watched programs in the world. It is estimated that more than 35 million people tune in to see the Forresters, Logans, and the rest of the gang each day.
The late daytime drama legend, William J. Bell, and his wife, Lee Phillip Bell, created B&B, and their son Bradley P. Bell took the helm of the show in 1992.
"Twenty-three years on television is an incredible collaborative achievement," Bell remarked. "I'm grateful to the many talented artists and professionals who labor tirelessly to bring The Bold and the Beautiful to life. I give heartfelt thanks to our loyal viewers, and to CBS, for their steadfast support."
There are currently four original cast members who remain integral parts of the story structure: Susan Flannery (Stephanie Forrester), Katherine Kelly Lang (Brooke Logan), John McCook (Eric Forrester), and Ronn Moss (Ridge Forrester).
The show's writing team has a lot planned for its 23rd season, including storylines centering around the secret that Bridget and Owen are keeping from their spouses, Aggie's unrequited love for Nick, Steffy's plans to steal Oliver away from her stepsister Hope, and how Whip and Taylor's newfound love will affect Brooke and Ridge.
B&B fans will also soon be able to indulge in a line of real-world Forrester Creations apparel, beauty products, and home goods. The show has reached a licensing deal that will create a line of lifestyle products that fans will be able to purchase.
"This licensing program will extend the television viewing experience into the lives of our viewers in an authentic, fun and exciting way," Bell explained. "We're excited to work with Paid, Inc. and Stone America Licensing to provide new products and fresh experiences for our worldwide fan base."
Photo Credit: Gilles Toucas/The Bold and the Beautiful