John McCook has spent 23 years playing The Bold and the Beautiful's Eric Forrester. After all those years has he ever considered quitting? "Every day," he responded.
Not that McCook is ungrateful. "This is a great job. It has offered me financial security and the chance to act year after year. I know this job will be here. When a character gets to be a certain age on a soap, he is probably going to be there forever. I want to be like Mac Carey on DAYS, working to the end."
"I had been Lance Prentice on The Young and the Restless. I wasn't interested in doing soap. My wife Laurette and I kind of laughed at first. Then we took a closer look at it. The soap Capitol had just been cancelled. The show had not been very strong in the ratings, but it had a five-year run. We knew a soap by Bill Bell who had such a great track record would last that long. We had babies at home. So I took the role."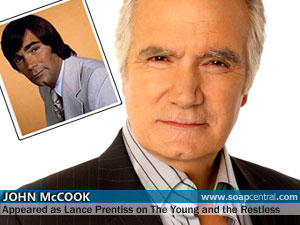 He is aware that soaps are not the hot commodity they were. "I really believe our show will be the last soap standing. It has great international ratings. It's a major hit in Italy. When we have gone there on shoots, it is amazing the reception we receive. Although McCook wishes a certain fan from Italy would not be so involved with his character. McCook wants fans to know that he is not on Facebook. "For some reason some guy from Italy is going on Facebook and saying he is me. It is not me. We are looking into legal action. We just want him to stop."
McCook had many divergent roles since he became an actor. He appeared on Broadway in such major revivals as West Side Story and Mame. He costarred with the legendary Anne Miller. "Mame was her play. She was like Ethel Merman; she knew what she wanted. Nothing was ever going to change in the production. She never knew my name. Over the years, I would run into her in L.A. I would say hello. She would say 'Oh yes you are second act Patrick.'"
In his early years in Hollywood, names were a hurdle for McCook. "I was signed by Warner Brothers."
Jack Warner was known as one of the toughest guys in Hollywood. "He decided my name should be Bryant Russell. I was not happy but this was Jack Warner. You didn't argue with him. "I went down to the Screen Actors Guild office to register my new name. The lady at the desk said I couldn't use the name; it was already taken. I asked her to call Warner and tell him. She got wide-eyed and said 'I'm not telling him.'
"So for the first and only time I talked directly to Warner." McCook goes into a perfect imitation of the gruff-voiced Warner. "He didn't look up at first. When he did he said 'You're the Irish kid. What is it?' I told him about the issue with my name. 'What's your real name?' When I told him, he said, 'that sounds like a perfectly good Irish name to me. Keep it.' "He was looking down at a list. I realized he had this list of names. Whoever got hired was given the next name on the list."
McCook is proud that he has been able to work under the old Hollywood Guard and the new. "I was one of last two actors under the studio system. I was thrilled. I got $178 a week. In exchange they would send me to a movie set. I would do my five lines and wait for the next job."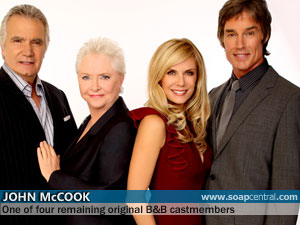 When the studio system collapsed, McCook continued to work in movies, television, and even was a music conductor in Vegas. He is also a good dancer. Ronn Moss, who plays his son, Ridge, was asked to be part of the Italian version of Dancing With the Stars and came in second. McCook has no desire to follow in Moss's dance steps. "Ronn's schedule was brutal. Travelling back and forth to Italy every week. All the rehearsals. I have enough work with the show."
When people would ask him about doing the American version, he also said no.
"Listen, John O'Hurley did it. They already had a guy with my hair."
McCook's hair has changed over the years. When he was cast in B&B, producers worried that he would look too young to play the father of Ridge and Thorne. "They added grey streaks to my hair. They don't need to do that anymore."
McCook says working on stage for all those years has made him able to do any scene handed to him on B&B. "If they asked me to do a scene under a piano, I could do it.'
Eric needing to take the little blue pill to have an active sex life with his trophy wife, Donna, did not bother him. What did bother him was the way it was depicted. "For someone in their 60s, that pill can be very important. It is no joke. I was not happy that it was treated like a joke with lines like 'is he up to Donna?' I wanted it to go a different way."
Did he go to the producers? "No. I don't do that. Susan Flannery always gives the young actors a warning. They often think they have a great storyline. They will tell Susan they are going to take it to Brad Bell, our executive producer. She has one word for them 'Don't.' She is right. If you take the story to Brad and he likes it, he'll take credit for it. If he doesn't use the story, you will be hurt."
McCook worries that his daughter Molly, an actress, might be hurt by the business. "She is a fine actress. Very talented. But acting is a tough career. This is a rude business. I tell her she has to remember that if she's doing a role or going on an audition, it is never about her. It is always about the movie or the play."
McCook, like many B&B viewers, wonders about Eric's dilemma in choosing between Donna and Stephanie.
"Donna or Stephanie, what's the choice? Donna wins," he chuckled. To play the seesawing between the two he goes to a young place with Eric. "They have this past. She made him who he is. She is the mother of his children. So when he thinks about his bond, he recalls the love they had, remembers the good times, and wonders if they can recapture it."