A New York landmark, of sorts, has filed a lawsuit against a Los Angeles institution. In a story that seems worthy of its own soap opera storyline, the Naked Cowboy has filed a lawsuit against CBS, claiming that that The Bold and the Beautiful infringed upon his trademark.
The Naked Cowboy, known to the government as Robert John Burck, is a New York street performer who appears in Times Square wearing only cowboy boots, a hat, briefs, and a strategically placed guitar.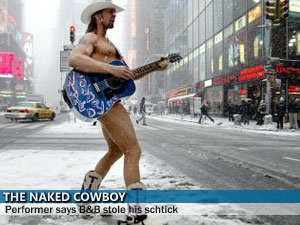 According to a report by TMZ.com, the celebrity gossip site, the Naked Cowboy takes issue with a B&B storyline that featured actor Zack Conroy (Oliver Jones) "dressed as a cowboy, wearing only underwear, and playing a guitar."
The lawsuit goes on to state that CBS promoted the B&B clip on their website and on YouTube with the name "Naked Cowboy" attached to it. Burck also alleged that CBS purchased advertising on search engines for the term "naked cowboy."
This is not the first trademark infringement claim Burck has filed. In February 2008, Burck filed claim against Mars Incorporated, alleging that the candymaker's use of an animation depicting the Blue M&M's character playing a guitar while wearing a cowboy hat, cowboy boots, and underwear on a video screen outside the company's Times Square flagship store violated his registered trademark.
In September 2010, comedienne Sandy Kane was sent a cease and desist letter regarding her performances as the Naked Cowgirl.
Burck is seeking damages of $1.5 million in his suit against The Bold and the Beautiful.
"We choose to respond with the bare minimum to the plaintiff's naked allegations," a CBS spokeswoman said.