The Bold and the Beautiful Recaps: The week of April 18, 2022 on B&B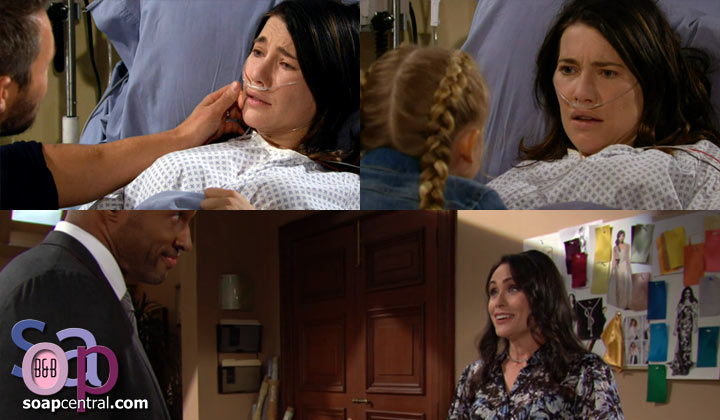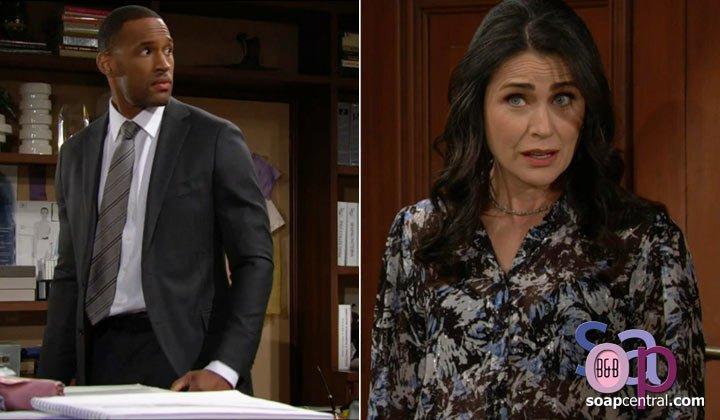 Quinn catches Carter in an intense conversation with Paris
Monday, April 18, 2022
Outside Steffy's room, Taylor told Ridge that she wouldn't be there if it wasn't for Sheila, who'd saved Taylor's life. Ridge was grateful that Sheila had saved Taylor, but he asked what Sheila thought she'd been doing by trying to jump off a building. He said it wouldn't bring Finn back.
Deputy Chief Baker arrived. He said nothing would bring Finn back, but Baker would bring the trash who'd shot Finn to justice. Upset, Sheila excused herself. Baker explained to Taylor and Ridge that the restaurant cameras had been down a while, and the only other camera that could have helped had been on an ATM machine with a decal slapped on it.
Baker, who'd heard that Steffy was conscious, was anxious to speak to her. Taylor said Steffy was in no position to be questioned. Baker explained that Steffy was his only witness. Ridge said Steffy was disoriented, and she hadn't remembered anything about the shooting yet.
Later, Ridge and Taylor were alone. Taylor stated that it felt like when Phoebe had died. Holding Taylor, Ridge said Steffy was way too stubborn to go anywhere. Taylor replied that he knew the right things to say. He reasoned that it was because he'd once been married to a really good psychiatrist. "World-renowned," she joked.
Taylor uttered that her heart broke for Li, Jack, and Sheila. Ridge let go of Taylor and asked what had happened on the roof. Taylor replied that the same woman who'd destroyed her life in the past had saved it. Ridge reasoned that he and their kids could have lost her because of Sheila. Taylor explained that Sheila had been about to jump, and Taylor had lunged toward her. Sheila had dragged Taylor back to safety.
Although Ridge was grateful for that, he didn't want anyone to forget what Sheila had done to their family. Taylor claimed that she wasn't forgetting, but "this" was a pretty good start. "The woman shot you. One good deed doesn't erase all the evil she's done. Don't tell me you're looking at her differently," Ridge responded. Taylor repeated that Sheila had saved her life.
Ridge reasoned that Taylor wouldn't have been there had it not been for Sheila, who brought chaos wherever she went. Ridge wondered what Sheila would do to their family next.
In a nearby waiting room, Sheila sighed in distress. She sank to the floor, recalling Steffy calling her a monster. Sheila heard Deacon, who'd arrived at the hospital to check on her. He said she shouldn't be alone. Sheila replied that she deserved to be, but somehow, she wasn't. She stated that something amazing had happened. "I saved Taylor's life," Sheila said.
Later, Deacon was in disbelief that Taylor had almost fallen off the roof. He asked why the women had been there. "I wanted to end my life, Deacon," Sheila explained. Deacon hadn't realized what a bad place Sheila was in. He said Finn hadn't deserved to die, but she didn't, either. He assured her that it would get easier.
Sheila bit out that Deacon had no idea what she was going through. "Everything I touch, everyone I love, I hurt and destroy," she asserted. She wished she'd never returned to town. Deacon told her that she couldn't blame herself, and she wasn't at fault. Sheila recalled Steffy trying to call emergency services, and Sheila banged her head against the wall behind her.
In another waiting area, Carter arrived and greeted Paris and Zende. Carter said Hope and Liam were in the cafeteria, and Carter couldn't imagine what Taylor and Ridge were going through. Zende felt that they all were going through it and noted that Carter was like a brother to Ridge. Carter replied that the Forresters were like family to him. Zende stated that the family felt Carter's loyalty, and he thanked Carter for being a friend to all of them.
Later, Paris had gone to meet her mother. Zende handed Carter some coffee and said Bridget had told Zende that Steffy was still resting. Zende felt that it might not be the right time, but he wanted to talk to Carter and get some advice. Carter asked what was going on.
Zende informed Carter that Zende and Paris had been taking it slowly, and he'd been dating other women. "Plural?" Carter asked. Zende replied that he'd been doing what he could to keep Paris off his mind, but he couldn't. Zende said he was in love with Paris, and the tragedy with Steffy and Finn had shown Zende that life was too short. Zende wanted to make Paris his wife, and he hoped she was ready. He asked what Carter thought. Carter advised Zende to follow his heart and propose marriage to Paris.
In the CEO's office, Eric could barely concentrate on work. Quinn said they didn't have to be there, but Eric said he'd wanted to be productive instead of sitting around fretting. He felt that they had to rally around Steffy and overcome it as a family, as they'd done many times before.
Zende arrived and informed Eric and Quinn that Steffy was resting. Zende didn't know how Ridge and Taylor were doing it. "They're Forresters. That's how they do it," Eric replied.
Zende, who'd been thinking about how important family was, stated that he couldn't wait any longer to ask Paris to be his wife. Eric was happy to hear it. Quinn didn't want to be a downer, but she wondered if Paris, who'd wanted to keep things casual, was ready. Zende replied that it was a gut thing. He felt it in his heart. He believed that Paris was his future.
In the design office, Carter was working. When Paris arrived, he tried to avoid talking to her, but she asked why he got to decide what was best for them. He replied that he'd been down that road before and knew how it ended. "You think you know," she rejoined. Refusing to discuss it, Carter said he was wrong for her, and she should be with Zende.
Paris asked if Carter really loved her. She didn't know why they couldn't make it work if they loved each other. "And if this is about my mother..." Paris added. Carter stated that Grace's reaction was the same one others would have. He said he'd been forgiven by the Forresters, but he was basically on probation around there. He didn't want that to happen to Paris.
Carter insisted that Zende was her future. Paris wished Carter would stop pushing her toward Zende. Carter believed that it was where she'd be if he hadn't interfered. Paris corrected Carter, saying that they'd fallen for each other. He insisted that, while it had been wonderful, it should never have happened. Upset at being told what to do, Paris said she was a grown woman and didn't need Carter or her mother's protection.
"I make my own decisions, and I'm deciding you," Paris affirmed. She was willing to risk her job and standing with the Forrester family. Carter asserted that it wasn't worth the risk to him. He wouldn't ruin her life and insisted that whatever had been between them was over. Carter said Zende wanted to be her husband, and she should accept Zende's marriage proposal and make a life with Zende. Carter said he just wanted her to be happy. Paris sobbed and left.
Moments later, the door opened, and Carter heard Quinn say, "Really? You and Paris?"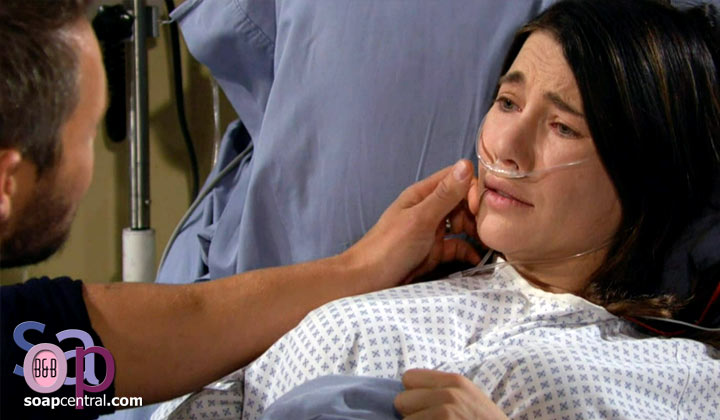 Steffy says something startling about Liam
Tuesday, April 19, 2022
At Forrester, Carter asked what Quinn needed from him. Quinn whipped the key to Carter's loft out of her bra. She'd thought it was time to return it to Carter. She said she'd been thinking that he might want to give it to someone else; however, she'd never imagined him and Paris. "Carter, what have you gotten yourself into?" Quinn asked.
Later, Quinn had ascertained that the thing with Carter and Paris had been going on since New Year's Eve. Carter stated that it had been a mistake, and it never should have happened. It was an attraction that he and Paris had to fight. "Trying to fight an attraction to you -- that's something I know a little bit about," Quinn quipped, grinning.
Quinn marveled that she and Paris had something in common and hopped up, ready to give Paris some advice on how to get over Carter Walton. Carter asked why Quinn was joking around. She asked if it was really over with Paris. Certain of it, Carter groaned about getting involved with another attached woman. Quinn asked if he was okay.
Carter asked if he could be honest. "Always," Quinn replied. He admitted that he'd been a mess since she'd gone back to Eric, and instead of moving on with an available woman, Carter had hooked up with Zende's girlfriend. Carter confessed that he'd let something happen with a woman he'd known he couldn't have and had started a relationship that he'd known wouldn't go anywhere. Quinn asked why Carter would do that to himself.
Carter replied that he hadn't been able to risk starting something with potential. "Not when...not when a part of me is still wanting, wishing. I miss you, Quinn," Carter confessed. Silently, Quinn offered him the key. As he took it, she uttered, "I miss you, too."
At the hospital, Deacon sat with Sheila on the floor. He hadn't realized that she'd been so depressed. Sheila stated that she would have done it. She'd never felt so alone and worthless. Sheila believed that Taylor had saved Sheila's life. "And I saved hers," Sheila added.
Deacon hoped he didn't have to worry about Sheila. Sheila sobbed that her son was dead, and her grandson would grow up without a father. Deacon added that Hayes might grow up without a mother, and Sheila had to be there in case Steffy didn't pull through. Sheila informed him that Steffy was improving. Deacon called it good news.
Sheila frowned, and he responded by saying he couldn't believe she'd wish Steffy dead. Sheila wished that she could go back and do something to stop the shooting. She wished she could tell Finn she was sorry and see him once more. She cried that he was gone, and she'd never see him again. Deacon hugged the sobbing Sheila.
In a waiting room, Taylor, Hope, and Liam discussed Douglas, who'd asked how long Hayes and Kelly would be at the cabin. Brooke arrived, sure that Taylor was happy that Steffy was awake. Brooke asked where Ridge was, and Taylor rolled her eyes at Brooke and avoided eye contact. Brooke asked again, and Taylor said he was with Steffy. Brooke guessed she shouldn't interrupt. Taylor agreed.
Brooke asked if Steffy had said anything about the shooting. Taylor said, "Steffy doesn't remember anything about the shooting. Her. Finn." In Taylor's view, it was normal for Steffy to suppress the trauma. Taylor said Steffy had been in and out of consciousness and had to be reminded of what had happened. Taylor believed Steffy was improving and would be able to figure out who'd done it.
Aside with Liam later, Brooke asked if anyone had told Steffy about Finn yet. Liam said it hadn't happened yet. Hope approached after a call with Amelia and said Amelia had offered to bring the kids to the hospital later. Liam decided to take off to talk to Steffy.
Brooke flashed a strange look as Liam left. Alone with Hope, Brooke guessed it had to be strange that Liam hadn't left the hospital and had been practically holding vigil at his ex-wife's beside. Hope replied that Steffy was very important to Liam, and Liam was where he should be because he and Steffy shared a child. Brooke said that was okay, but she asked about Hope.
Hope asked what it was about her. Brooke figured that Hope should have gone with Liam because she and Liam were a couple. Hope said Steffy was in a fragile state. Hope didn't want to overwhelm Steffy, and Hope believed that Liam should have alone time with Steffy. Hope asked where that was coming from. Brooke shook it off, saying Liam was Hope's husband. Hope replied that Brooke didn't have to worry because nothing would change that.
In Steffy's hospital room with Ridge, Bridget was pleased with Steffy's progress. Having great difficulty speaking, Steffy asked if she could go home. Bridget didn't want Steffy to get ahead of herself. Ridge pulled Bridget aside to ask if he could question Steffy about the incident. Bridget advised him not to be disappointed if Steffy didn't have answers yet.
Steffy said it was fuzzy, and she didn't remember being shot at. Ridge asked if she knew why she'd been there with Finn. Steffy seemed confused. Bridget said Steffy should rest, but Steffy said she wanted to help. Ridge asked who had shot her. Steffy wanted to remember, but she couldn't. Ridge advised his daughter to close her eyes and get some rest.
Later, Steffy awakened, panicked, and asked where she was and what had happened. Ridge reminded her that they were in the hospital. She recalled that Ridge had wanted her to remember. He said not to worry about that.
Liam arrived. "Liam. Oh, Liam!" Steffy exclaimed, astonished to see him. Liam told her how worried they'd been that she'd leave them. She replied that she'd never leave him. She thanked God that Liam was there. She said she'd needed him. "I needed my sweet husband. Oh, I needed you, my sweet husband," Steffy cried, and Liam gazed worriedly at Ridge.
Outside Steffy's room, Taylor and Bridget discussed Steffy's condition. Bridget asked if Taylor had seen the follow-up CT scan. Taylor had. Bridget said the numbers were where Bridget expected Steffy to be. Taylor asked about Steffy's memory. Bridget said Taylor knew that they shouldn't worry about that yet. Taylor said she'd been hiding her feelings, but as a mother, she was freaking out. Bridget conveyed that they'd gotten over the biggest hurdle; Steffy was conscious, and it might be best that Steffy didn't remember yet.
Around a corner, Sheila listened in as Taylor wondered what it would be like for Steffy to remember that horrible night. Bridget said it was a good sign that Steffy had awakened and knew who they were. Taylor wondered when Steffy could tell them what had happened. Taylor confided that a part of her feared Steffy would never remember. Taylor asked if Bridget thought the same thing, too.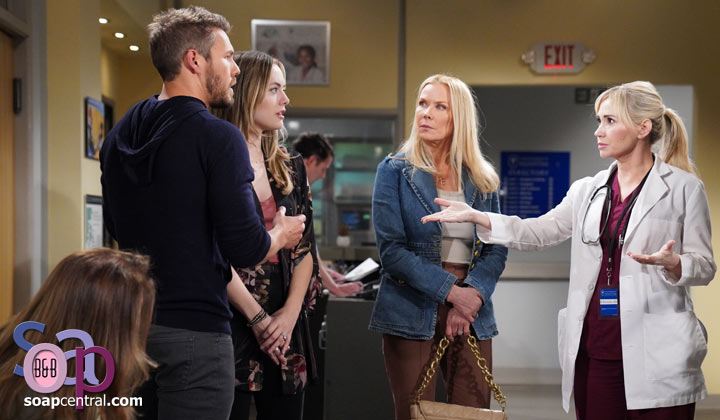 Loved ones argue over whether or not to tell Steffy the truth
Wednesday, April 20, 2022
At Forrester Creations, Carter asked Quinn to repeat what she had said. It was clear Carter had heard Quinn and simply wanted to hear her say again that she missed him. Quinn looked around somewhat nervously and feigned annoyance before saying, "I miss you, too." Carter grinned widely and said that he would try not to let Quinn's words go to his head.
Quinn asked Carter if he was certain that he and Paris were over. He confirmed that they were. Quinn explained that the Forresters might not be so understanding if they learned that Carter had been "doing an end run around Zende, trying to lure poor, sweet Paris into [his] love nest." Quinn said that she was sure Carter and Paris' attraction was mutual and a force that they could not resist. Quinn paused for a moment and pretended to do some deep thinking. "Why does that sound so familiar?" she asked.
"Are you talking about you and me?" Carter asked with a smile. "I have to admit, I do miss our... talks," Quinn replied. Quinn shared that she did not have a lot of friends and felt a void in her life since she and Carter had stopped spending time together. Quinn shared that Eric had been working from home a lot and would often spend the night in the guesthouse. Carter delicately asked if there was a problem that he was not aware of.
"I love Eric. He's my husband, and I'm committed to him," Quinn responded. Carter explained that he was not questioning Quinn's devotion to her husband. Quinn decided that she didn't want to talk about her personal life and only wanted to give Carter back his "damn key." A slightly flustered Quinn announced that she was going to let Carter get back to work.
Carter asked Quinn if the key was just an excuse to see him. She confessed that she'd just wanted to see her friend. Carter called Quinn "an original among originals." Quinn smiled and replied, "And don't you forget it." As Quinn was walking out of the design office, she looked back to see if Carter was watching her leave.
At University Hospital, Bridget informed Taylor that she would not be surprised if Steffy never regained her memory of what happened the night of the shooting. Unbeknownst to either woman, Sheila was listening in on their conversation. Bridget and Taylor both agreed that they wished they could spare Steffy the pain she would experience when she learned that Finn had been killed.
Bridget shared her concern over Ridge's aggressive approach to trying to get Steffy to remember what had happened the night she'd been shot. Taylor agreed that it would be best for Ridge to dial it back. When the two doctors went in their separate directions, Sheila stepped from around the corner with a serious expression on her face.
Elsewhere in the hospital, Hope insisted that she had no concerns with Liam spending time by Steffy's bedside. Brooke worried that Steffy might lean on Liam when she learned that Finn had been killed. Brooke insisted that she was not trying to make Hope feel insecure about her relationship with Liam. "Liam's ring is on my finger, not Steffy's," Hope said bluntly.
Hope wondered how Steffy would be able to move on with her life once she learned that Finn had been killed. "How do you hear that your husband is gone and never coming back?" Hope asked.
Sheila eventually caught up to Taylor outside of Steffy's room. Taylor was on the phone, talking to Thomas. When Taylor ended the call, Sheila asked how Steffy was doing. Taylor explained that everything was "a blank" for Steffy. Taylor vowed that they would find the shooter and put that person behind bars. Taylor pulled Sheila into an embrace.
Brooke and Hope rounded the corner, and Brooke immediately expressed her surprise to see Sheila. Taylor informed Brooke that Sheila had every reason to be at the hospital.
In her room, Steffy was overcome with emotion as she stroked Liam's cheek. "I need you," she sobbed. Both Liam and Ridge remained motionless and silent, both unsure what to do. Moments later, Bridget entered the room and overheard Steffy say that she was glad to have her husband with her. Liam flashed a glare at Bridget to ask Bridget not to correct Steffy.
Bridget suggested that they let Steffy get some rest. Steffy panicked and pleaded with Liam not to leave her. Liam assured Steffy that he would be out in the hall. "I love you so much," Steffy said as she began to cry. Liam smiled slightly and replied, "Yeah."
Ridge, Liam, and Bridget exited Steffy's room, and the expressions on their faces caused Taylor to worry that Steffy's condition had deteriorated. Bridget assured them that Steffy was okay. Ridge explained that when Liam had entered Steffy's room, Steffy had been "very grateful to see him." Bridget looked at Ridge in disbelief. Speaking haltingly, Liam revealed that Steffy believed that he was her husband.
While Brooke's face showed annoyance and a bit of anger, Sheila smirked. Brooke and Hope insisted that someone needed to tell Steffy the truth. Taylor countered that, as a psychiatrist, she did not think it would be wise to upset Steffy unnecessarily. Brooke, however, felt it was problematic to let Steffy go on thinking that Liam was her husband. Brooke asked Bridget for her opinion. "There are no easy answers here," Bridget replied. She did, however, agree that it was not the right time to tell Steffy the truth.
A nurse exited Steffy's room and announced that Steffy had asked to see "her husband." Liam nodded and said that he was going to check on Steffy. As he sat down at the side of Steffy's bed, Hope peered into the room through the window in the door.
Liam assured Steffy that she would be okay. She agreed but said she needed Liam by her side. She asked Liam to promise that he would never leave her. "I'm not going to leave you," Liam said as he smiled, reassuring her, "And you're not gonna be alone." In the hallway, Hope was visibly concerned.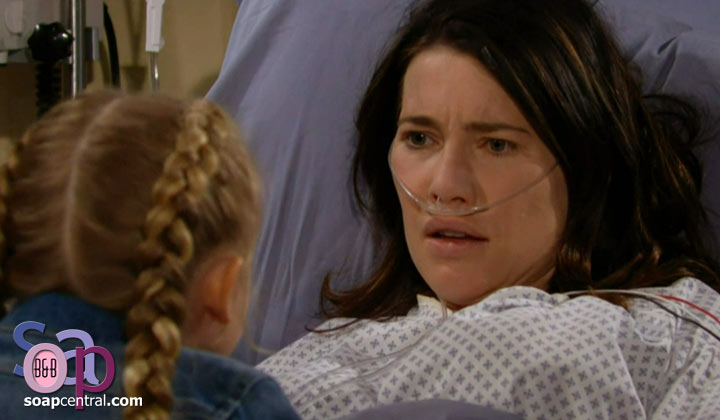 Kelly's appearance shocks Steffy
Thursday, April 21, 2022
At the hospital, Hope peered into Steffy's room as Liam sat inside with Steffy, reassuring her. "My husband... I just need you with me," she said. Liam replied that he wasn't going anywhere. Steffy wanted to go home with Liam. Suddenly, she remembered Kelly and asked to see her. Liam said it wasn't the best idea, but Steffy begged Liam to bring the child to the hospital. He agreed to it, but he asked Steffy not to rush things.
Liam went into the corridor and told Hope that Steffy wanted to see Kelly. He suspected that Steffy was repressing the memory of Finn and everything that went along with it. Liam figured that seeing Kelly might ground Steffy and help her make the "other connection."
Liam began fretting about what to do, and Hope said they all wanted what was best for Steffy. Liam thanked Hope for being compassionate, understanding, and supportive of Steffy.
Liam left, and Hope went into Steffy's room. Steffy seemed suspicious that Hope was there. "We don't always get along...It's kind of you to visit," Steffy concluded. Steffy said she just wanted to go home with Kelly and Liam and their little family. Hope told Steffy that it was okay to be strong yet afraid. Hope believed Steffy could face it. Hope just had one important thing to tell Steffy.
Steffy said she'd been trying to remember, but things were foggy. Hope asked if Steffy could remember "before." Steffy said she could remember her home and Liam and Kelly.
Hope desired to tell Steffy something about family. Hope said Steffy's family was much bigger, and Steffy wouldn't be alone. Hope vowed to support Steffy and said the family did, too. Steffy conveyed that Liam had said he wouldn't leave her. Hope said he'd be there for Steffy, and so would Hope. Hope stated that Steffy's memories would return, and Steffy could move on. Steffy said she just needed her little girl, her husband, and her precious family.
Liam walked in with Kelly, who looked about five years old. Steffy stared incredulously at the child. "You got...so big!" the stunned Steffy exclaimed. Liam said he and Kelly had had a great talk in the car, and Kelly knew that Steffy was just fine and would be home and back to herself. Liam flashed Hope a worried look as Steffy said she couldn't wait to be home with her family.
During Kelly's visit, Liam told Steffy that the child had written many letters and had drawn many pictures that they'd hang around the house to welcome Steffy home. Steffy couldn't wait to go home and see them. Liam said he'd explained to Kelly that Steffy had to stay longer.
Hope noted that Kelly's hugs had improved Steffy's mood. Steffy asked to be alone with her husband and child. Hope exchanged looks with Liam and asked if they wanted her to go. Liam said he'd be out in the corridor soon. Hope left but peered through the viewing window in the door.
Steffy said she was glad to have Kelly and Liam by Steffy's side. Kelly stated that she loved Steffy. Steffy told Kelly and Liam that she loved them, and Liam said he loved Steffy, too.
In a smaller waiting room, Brooke was with Sheila, Taylor, and Ridge. Brooke said Steffy had gone back in time, and it was more than a memory problem. Taylor called it a coping mechanism, but Brooke wondered what Steffy was coping with if Steffy didn't remember Finn or their child. Taylor claimed that Steffy didn't have the emotional resources to deal with Finn's death. "I wish I could forget it," Sheila uttered.
Brooke said she didn't want to interfere with Steffy's healing progress, but it was a problem for her that Steffy was calling Hope's husband Steffy's husband. Ridge said he understood Brooke's concern but said that, if Steffy wasn't strong enough to handle the situation, they needed to let Steffy heal.
Brooke clarified that she wasn't saying anyone should barge in there and tell Steffy about Finn. In Brooke's view, it would be disastrous, but she didn't think it would help to let Steffy live in a delusional world, either. Brooke asked about Hayes, who needed his mother. Taylor claimed to be trying to make sure Steffy got back to Hayes as soon as possible. "She's lost some things. Give her a chance to find them," Ridge told Brooke.
Taylor explained that selective memory loss was a survival reaction. Taylor believed that Steffy knew that Finn was dead and had seen it happen, and that was why the response from Steffy made sense. Brooke was just concerned about Steffy's fixation on Liam. Ridge rasped that it had nothing to do with Liam. Ridge believed it was about Finn and how much Steffy had loved him. "And she did. Deeply," Sheila responded and became tearful.
Taylor said Steffy had blocked it out and had found a safe place in her mind. That safe place was Liam. Ridge said Steffy would know that Liam wasn't her husband "soon enough," and Ridge asked Brooke to be patient and give Steffy what she needed to heal.
Sheila asked if Taylor was certain that Steffy would heal. Taylor stated that the CT scans showed no damage, so the memory loss might be psychological. Brooke asked how living in the fantasy would help. Upset, Taylor claimed it was more complicated than a fantasy, and emotions were involved. It was why Steffy had sought safety with Liam. "Their connection is real, Brooke. They have a deep, abiding love for each other. As a psychiatrist, it makes me wonder if there's more to it. If maybe this is a sign Steffy is repressing her true love for Liam," Taylor said. Ridge scowled, and Brooke cut her eyes to Ridge.
Later, Ridge and Sheila had gone, and Taylor told Brooke that it wasn't random that Steffy had latched onto solace with Liam. Brooke wasn't sure how avoiding the subject was helping or why it didn't worry Taylor. Taylor asked if Brooke was questioning Taylor's concern. Brooke replied that she didn't know why Taylor would leave Steffy in the dark. Brooke said Steffy might need to be with her son and asked if they planned to tell visitors not to mention Finn.
Brooke was on board with Steffy not having setbacks, "but this is crazy." Taylor thought it was crazy that Brooke couldn't see what was going on. Taylor declared that it was too soon and dangerous to take Liam away, and Taylor refused to allow it. Brooke warned Taylor not to make it an issue between the two of them. Taylor denied doing it, but Brooke suspected that Taylor was using the situation to drive a wedge between Hope and Liam.
In a different waiting area, Sheila was alone, thinking about the shooting, when Ridge approached, wondering why Sheila hadn't left yet. Begrudgingly, he offered to let Sheila know as soon as Steffy remembered something.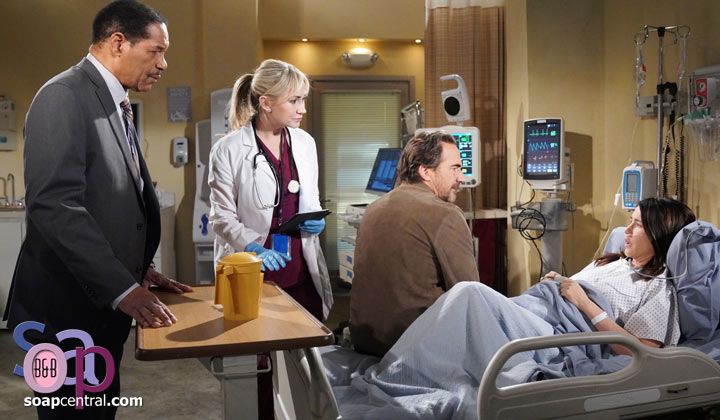 Steffy undergoes questioning about the shooting
Friday, April 22, 2022
In a waiting room with Sheila, Ridge saw no reason for Sheila to be there. He said she should be resting. Sheila replied that she was the only one there who'd lost a son. "You, Li, and Jack," Ridge said. Ridge, who had also loved Finn, didn't think Sheila's presence changed anything. Ridge told her that she'd be his first phone call when they learned who'd committed the shootings.
Not surprised by Ridge's stance, Sheila said he'd never had any use for her, even after she'd saved Taylor's life. Ridge was grateful but said Sheila was the only reason Taylor had been on that roof. Sheila wished Taylor hadn't gotten there in time. Asking her not to do that, Ridge said he didn't want that for her. He couldn't imagine what demons she had that would make her think her only way out was jumping off a building.
Sheila asked why Ridge cared about what happened to her. "I don't care what happens to you. I really don't," he replied. However, he did want her to be alive when they found whoever did it to their kids. He said they'd bring the person to justice.
Deputy Chief Baker arrived, hoping Steffy could talk to him at that point. Ridge revealed that Steffy was having memory issues and didn't even remember meeting Finn. Ridge didn't think they'd get out of Steffy what they wanted. Ridge agreed to let Baker interview Steffy but insisted that Baker honor Ridge's request not to bring up Finn. Baker agreed and said he had dealt with memory-loss victims before; it would take patience, but the perp would get caught.
In Steffy's room, Kelly and Liam were in with Steffy, who promised she'd never be away from her daughter and husband again. Hope watched from the window in the door. Bridget approached, hugged Hope, and went into Steffy's room to examine Steffy. As Liam took Kelly out of the room, Steffy promised that they would be together soon.
Bridget asked Steffy about her pain level. Drowsy, Steffy said it was nothing she couldn't handle. Bridget advised Steffy to rest, but Steffy believed she'd heal faster at home with her husband and daughter. Steffy wondered how long her recovery would take. Bridget wasn't sure. Steffy said she'd feel better once she was home with her husband and daughter.
Ridge arrived with Sheila and Baker to question Steffy. Saying to go easy on Steffy, Bridget side-eyed Sheila on Bridget's way out of the room. Baker asked for Steffy's insight about what had happened in the alley, and Steffy promised to do her best.
Baker assured Steffy that the police wouldn't stop until they found the person responsible. He asked Steffy to remember being in the alley, and he asked why she'd been there. Steffy said it had been something urgent. She didn't know what. Behind Baker, Sheila grew anxious.
In her mind, Steffy saw a flash of the Il Giardino deliveries door. She saw a very fuzzy, blurry image of the side of Sheila's face. Steffy and Sheila gazed at each other.
In a waiting room with Taylor, Brooke decided that Taylor was taking advantage of Steffy's memory loss. Brooke theorized that Steffy would want to be there for her son, who'd lost his father; Steffy would want the truth in order to help her son. Taylor refused to jeopardize Steffy and was appalled that Brooke would say Taylor was using the memory loss to her advantage.
Brooke apologized and said she didn't want to argue with Taylor. Brooke empathized with Taylor's predicament but didn't get why Taylor would continue to let Steffy live in a fantasy world. In Brooke's view, it was ridiculous and wrong, and believing a lie wasn't helpful.
Taylor claimed that Steffy needed a buffer between regaining consciousness and life without Finn. "Okay, let that be you," Brooke responded. Brooke said Taylor was the mental health professional who could help her daughter, and it was an unfair burden for Liam and Hope.
Hope approached, and Brooke asked how Steffy was. Hope replied that Steffy was having family time with her daughter and husband, "my husband." Taylor thought it was good for Kelly to be there and for Kelly to see her parents together. Hope explained that Finn had just arrived in Kelly's life as her stepfather. "And now, all of a sudden, he's gone, and she's in a hospital, and Steffy is calling Liam her husband," Hope told Taylor.
Liam arrived. He said Kelly was with Amelia. Hope asked if Kelly was okay. He seemed unsure but said he thought so. "You think?" Brooke asked. Hope asked if Kelly had been confused about being there. Liam figured Kelly had been a little but would be more confused at home, not knowing where her mother was. Hope and Brooke were glad to hear it, but Brooke still had major issues with Steffy believing that Liam was her husband.
Liam understood the sentiment and said his wife's patience was superhuman. Hope admitted that it was weird to see Steffy thinking she was still married to him. Brooke told Taylor that it was taking a toll on her daughter. Taylor snapped that she was "so sorry" if it was too much for Hope after Steffy had been through a shooting. Taylor was adamant that no one would undermine her daughter's recovery. "Do you understand?" she asked.
Liam told Taylor that they all cared about Steffy and didn't want her to backslide. Taylor claimed to know Liam cared. Hope said that if Steffy's memory didn't sort itself out on its own, Brooke had a point. Hope asked if she should go years with Steffy thinking Liam was her husband. Hope said it was unsustainable, and something had to help Steffy remember she'd married Finn and had a child with him. "Surely you realize that, Taylor," Hope said.
Taylor claimed to understand it but asked them all to give Steffy a second. Taylor didn't know why Steffy was blocking Finn out but said Steffy's memory would return when Steffy was ready. Taylor said no one would cause Steffy a setback, and that was just the way it was.
Bridget arrived, and Brooke asked for a second professional opinion about whether Steffy was too fragile to handle the truth about being married to Liam. Bridget said it was her opinion, and that of Steffy's neurologist, that Steffy remember on her own. Hope said she'd hang in there, and Brooke asked how much time it might take. Bridget stated that it could be happening right then while Baker was questioning Steffy; he might touch on something to help Steffy remember.