The Bold and the Beautiful Recaps: The week of August 7, 2023 on B&B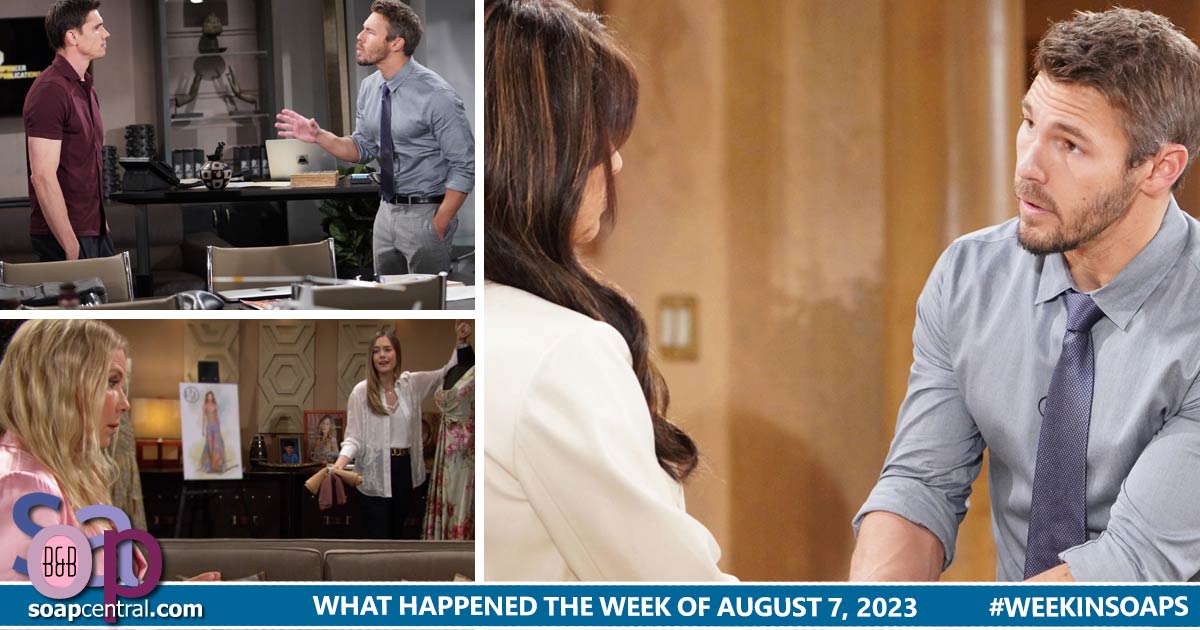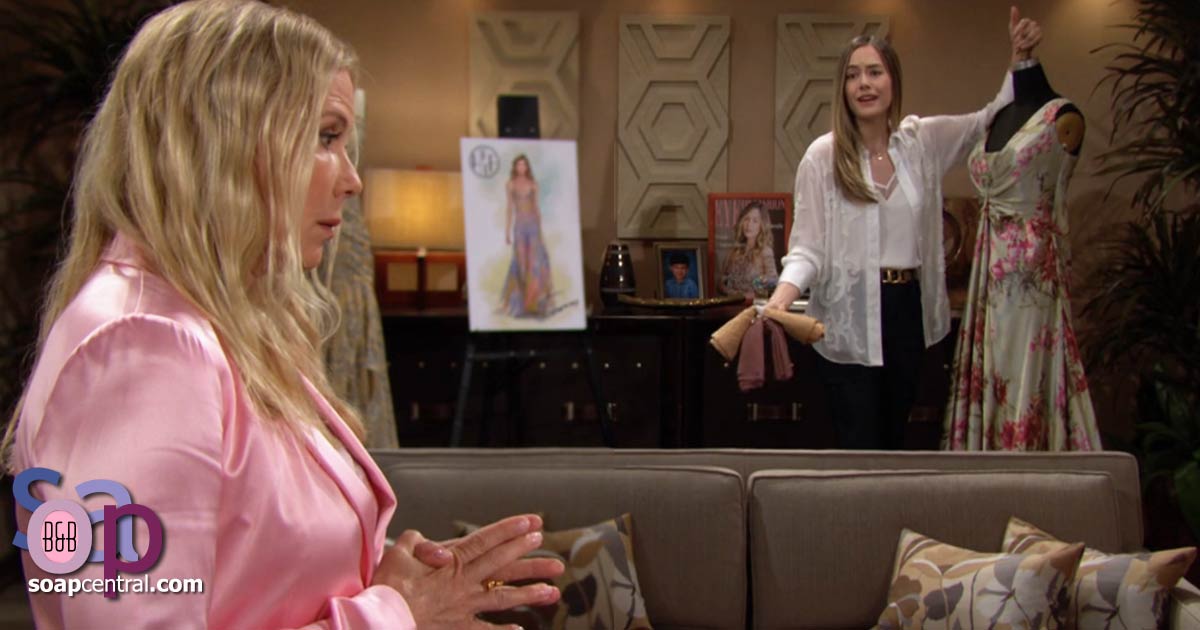 New ''It Girl'' Hope refuses to come in second
Monday, August 7, 2023
At Eric's house, Kelly assured her parents that she was okay. Liam and Steffy told Kelly that she meant the world to them. Liam added that they loved Kelly "so, so, so much." Kelly asked if Liam loved her mother, too. Liam said he'd always love Kelly and Mommy. Steffy sent Kelly to check on Hayes, and Liam said he'd meant what he'd said about Kelly -- "and you."
Later, Steffy had checked on the kids in the den. Hayes was getting sleepy, but Kelly still wanted to play. Liam guessed that Kelly's adrenaline hadn't worn off. Steffy shared her plan to let Kelly sleep in and awaken to "those pancakes." Liam said the pancakes were worth getting up for at any hour. Liam added that Eric probably loved Steffy and the kids being there.
Steffy sensed Liam had something to say. Liam admitted that he was shocked that she'd left her home with the kids. Steffy replied that she hadn't wanted to take that step, but she'd had no choice because Finn was too vulnerable to Sheila, who could strike at any moment.
Liam said it was good that Steffy was at the mansion, where Eric had amped up security. Liam added that everyone in the house had Steffy's best interests at heart. Touching her hand on her leg, Liam said it included him, and he'd do everything he could to keep her and the kids safe.
Steffy said she hated talking poorly about Finn, whom she'd always trusted. The things she and Finn had been through had made them closer and stronger, which was what had made his feelings for Sheila hurtful. Steffy asked what Finn had been doing embracing Sheila, and she stated that Kelly had almost drowned on Finn's watch.
Steffy didn't know how to trust Finn. She told Liam that Finn had suggested that she cut Sheila some slack. Though Liam was sorry Steffy had to go through it and had to doubt her husband, he validated her feelings. He was as shocked about Finn as she was. Taking her hands, Liam said he was there, and Steffy got to lean on him because he wasn't going anywhere. He pressed her hand to his face and stroked her cheek.
At the cliff house, it was obvious to Li why Steffy had left -- because of Sheila. Finn insisted that it was Liam. Disagreeing, Li asked Finn to at least say that he thought Sheila's release had been an injustice. Finn agreed, saying he thought Shelia should still be in prison. Li stated that Finn had let that woman embrace him, and he'd embraced her back. Li asked why he'd do that.
Finn said it was hard to explain, but he'd felt something. He said he couldn't help it. Li yelled that he couldn't feel anything for that woman, or he'd lose Steffy forever.
Later, Finn was explaining how he'd felt when Kelly had been drowning. Finn hadn't cared who'd been doing the saving. He asked if it was so wrong to get swept up in the moment and call Sheila "Mom." "Of course, it was!" Li yelled, saying Finn could never call Sheila that. Li didn't know how Finn could ask Steffy to cut Sheila some slack. Li didn't blame Steffy for taking the kids and leaving. Finn said that he was looking for Li's support. Refusing to coddle him, Li said his wife wanted to feel safe and protected, but he'd done the opposite.
Finn asked if he wasn't supposed to acknowledge that Sheila had saved Kelly's life. Li asked if they should forget everything because Sheila had been in the right place at the right time. Li insisted that what had happened on the beach and outside the judge's chamber could never happen again if Finn wanted to regain his wife's trust. Finn replied that his and Steffy's marriage was strong enough to withstand Liam and Sheila. Li ordered Finn to stop being a fool and to see that Steffy had left Finn for making terrible choices. Li, however, said it wasn't the end, and he would reunite with Steffy.
Later, Finn was alone and could hear all the noises in the empty house. He sullenly gazed at his family photos and flashed back to finding Steffy at the church in Monaco. He uttered that they'd lost each other once, and he wouldn't let it happen again.
In the design office. Brooke was impressed that Hope had four more interviews still ahead that day. Hope said Katie had Hope booked nonstop throughout the month. Brooke called Hope the "'It Girl' at the moment." Hope repeated that it was "at the moment" and said that, even though it was nice to have their work acknowledged, she was happy to have a distraction.
Hope added that she was still smiling about modeling with her mother in Rome, and Brooke said it had been a special moment for them. A flashback played of Hope and Brooke modeling gowns together at the preview. Brooke recalled that Italy had been magnificent. Hope replied that it had been for Brooke and Ridge, but not really Hope and Liam. Brooke asked if Hope and Liam would go through with the divorce. Brooke sensed that Hope didn't want it.
Hope said she and Liam, at an impasse, had signed the papers. Brooke asked if that meant giving up without a fight and jumping into bed with another guy. Brooke urged Hope to fight for her family. Noting that Hope had children, Brooke said it wasn't all about Hope.
Hope admitted that it wasn't just about her and added that Liam had always allowed Steffy to be a part of it. Hope claimed that she'd allowed it, but she didn't want to feel as if she was sharing Liam's love anymore. She said she didn't want to be like Brooke, Ridge, and Taylor, and it was about the example Hope wanted to set for her kids. Hope added that if she was the new "It Girl" of fashion, then "this 'It Girl'" didn't want to come in second to anyone.
Brooke asked where Hope and Thomas stood with each other. Hope said she didn't know, and she was just concentrating on work, riding the wave of HFTF's success. Hope said that with Thomas, she didn't have to question that she was his everything. She couldn't tell Brooke how good that felt after years of feeling like she wasn't enough for Liam and begging for reassurance that his feelings weren't divided. Hope said she felt free. She claimed she wasn't saying Liam didn't love her or that he was a bad guy. She just didn't want to be a part of it anymore.
Hope claimed that it was a fact that Steffy had always played a big part in Hope's marriage. Hope assumed it could be a self-fulfilling prophecy brought on by her insecurities, but whatever it had been, she didn't want to be a part of it. She said she'd never felt more alive and didn't have time to compete for any man's affection.
Brooke got why Hope didn't want love advice from her mother. Brooke said that Hope could get a divorce, but if Hope loved Liam as much as Brooke thought Hope did, then Hope needed to fight and persevere.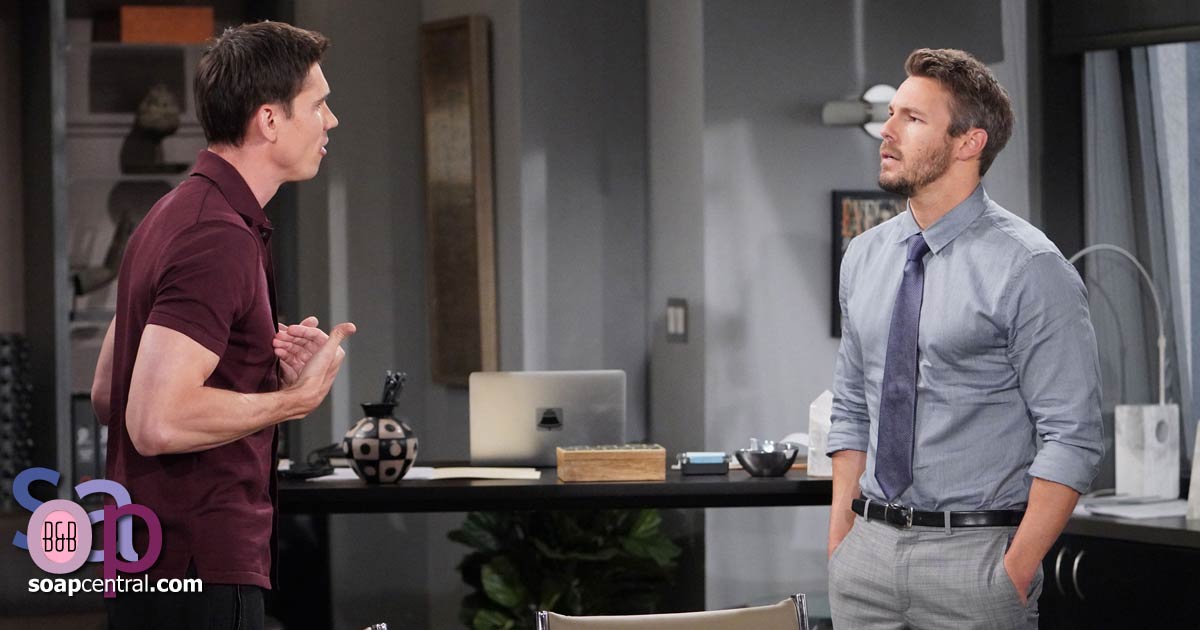 Finn confronts Liam about interfering in Finn's marriage
Tuesday, August 8, 2023
At the mansion, Eric and Steffy had coffee in the living room. Steffy thanked Eric for letting her stay there. Eric wished it was under better circumstances. He said he'd wait for Ridge's arrival to reveal why she was there, but she and the kids were safe and welcome anytime.
Ridge arrived, saying he'd been summoned by his daughter. Steffy said Ridge and Eric needed to know what had happened. "I left Finn. I had to get the kids out of the house as fast as possible," Steffy explained. She shared that she'd had to get out of there because it had been too dangerous. Figuring it was due to Sheila, Ridge asked what had happened.
Later, Ridge asked what Finn had been thinking. Steffy replied that Finn had been horrified, and she thanked God that Kelly was okay. Steffy revealed that Finn hadn't saved Kelly; it had been Sheila, and Finn had had no idea that Sheila had been there.
"She was watching them?" Ridge asked. Steffy didn't know, but she couldn't believe the woman who'd almost killed her and her loved ones had saved Kelly. Steffy added that Finn had asked her to cut Sheila some slack, and he'd referred to Sheila as his mother. Steffy said Finn had admitted a connection to Sheila. Steffy didn't think it would go away, and she couldn't live with it.
Eric was sorry about all that was happening but admitted that he loved having her and the kids under his roof. Steffy replied that she felt safe there. Eric affirmed that she was safe there, and he'd make sure she had all she needed. Eric left to let the staff know of Steffy's plans.
Ridge and Steffy hugged, and Steffy expressed her fears about what could have happened. Ridge said that Kelly was fine, and Steffy had done the right thing in moving to Eric's. Ridge assured his daughter that they'd get through it as a family. He offered to move in to help, but Steffy said she was fine -- except for her head spinning.
Ridge asserted that Finn would hear from Ridge about taking his eyes off Kelly at the beach. Steffy said she hadn't wanted to say it in front of Eric, but when Sheila had been released, Finn had embraced Sheila at the courthouse. Ridge asked how Steffy knew that, and she revealed that after picking up a weird vibe in the judge's chambers, Liam had followed Finn and recorded what Finn and Sheila had been doing in the corridor.
Steffy remarked that she wanted to have faith in Finn, but Ridge asked how she could explain it. Steffy said she didn't know how she was supposed to trust her husband, and Sheila would always be a part of their lives. Ridge asked what would happen next.
At the cliff house, Finn was pacing around, reliving memories. He recalled imploring Steffy to stay. R.J. stopped by for a visit on his way to Paradise Cove. He asked if Steffy and the kids were around, but Finn revealed that they were gone. Confused, R.J. said the kids had been kept home from camp because of Sheila. Finn murmured that it had been the plan.
R.J. volunteered to help out with the kids until Finn and Steffy found a nanny. Finn replied that Steffy would have plenty of help at Eric's house. "Steffy took the kids and left," Finn said. R.J. wondered why Steffy would do something like that. "Because of Liam," Finn replied.
Later, R.J. was upset to hear what had happened to Kelly, and he said Finn's job had been to keep her safe. Finn stated that he hadn't saved Kelly; it had been Sheila. Finn accused Liam of stoking the flames and using Finn's birth mother to break up Finn's marriage.
Finn flashed back to Steffy telling him about Liam's recording. Finn told R.J. that Liam had it out for Finn and was trying to undermine Finn's marriage. Finn refused to let Liam get away with it.
At Spencer, Wyatt was sorry about what had happened to Kelly. Liam asked if Wyatt was sorry that it had happened or sorry that Finn had let it happen. Wyatt didn't want to think about what would have happened if Finn hadn't been there. Liam corrected Wyatt, saying Sheila had saved Kelly. Wyatt asked why Sheila had been there, and Liam said Wyatt knew the answer.
Later, Wyatt said he was glad that Kelly was okay, but "this" proved that Sheila wouldn't stay away. Liam replied that Sheila was barely out of jail and was already stalking Finn and Liam's daughter. All Liam cared about was that the kids were safe at Eric's. Liam called Finn a magnet for Sheila, who wouldn't give up after that hug. Liam said he and Steffy were on the same page, and there was no way they would let that monster near "our" family.
Noting that Steffy and Liam were a united front, Wyatt asked if Steffy shared Liam's feelings about Finn. Wyatt reminded Liam about the kisses he'd laid on Steffy. Liam replied that there was history between them, and he'd continue to love Steffy very much; however, he swore he hadn't been trying to break up the marriage. Liam said it had been a moment, and he'd told Steffy that he'd never do it again. Wyatt replied that Steffy had walked out on Finn.
Liam stated that the whole situation was different due to recent events, and Liam was laser-focused on keeping Steffy, Kelly, and Hayes safe. Wyatt replied that deep down, Liam might realize there was an opportunity to reunite with Steffy.
Later, Liam was alone, grinning at a picture of Kelly. A thought occurred to him, and he dug through a nearby cabinet. He pulled out the selfie he'd taken of himself, Steffy, and infant Kelly the day they'd brought Kelly home from the hospital. He set the framed photo on top of the cabinet. "I know what you're doing," Finn said from the doorway.
Liam guessed Finn would say looking out for Liam's daughter and her mother because Finn couldn't. Finn claimed he could take care of his family, but Liam said Kelly had almost drowned because of Finn. Finn replied that no one felt worse about it than he did. Liam asked if Finn wanted Liam to express gratitude to Finn's psycho mother.
Finn said Sheila had done terrible things, but she was the reason that Kelly was alive. Liam asked if Finn could hear himself, and he reminded Finn that Sheila had shot him and Steffy. Liam stated that Finn was defending Sheila and embracing her.
Closing the door, Finn said Liam had taken the video and gone straight to Steffy. "Didn't you, you little puke?" Finn asserted that he knew what Liam wanted. Liam replied that he wanted Steffy to be informed to make decisions about protecting their child. Finn roared that it wasn't the only reason. He said Liam's marriage ending didn't give Liam the right to circle back and make a play for Finn's wife or interfere with Finn's marriage.
Liam replied that Finn was doing it on his own, and Steffy had at least taken the kids somewhere safe. Finn replied that he and Steffy were committed and would get over obstacles together. He stated that Liam had tried to exploit his history with Steffy, but she was with a real man. Finn refused to let Liam interfere with his marriage. Finn ordered Liam to stay away from Finn's wife.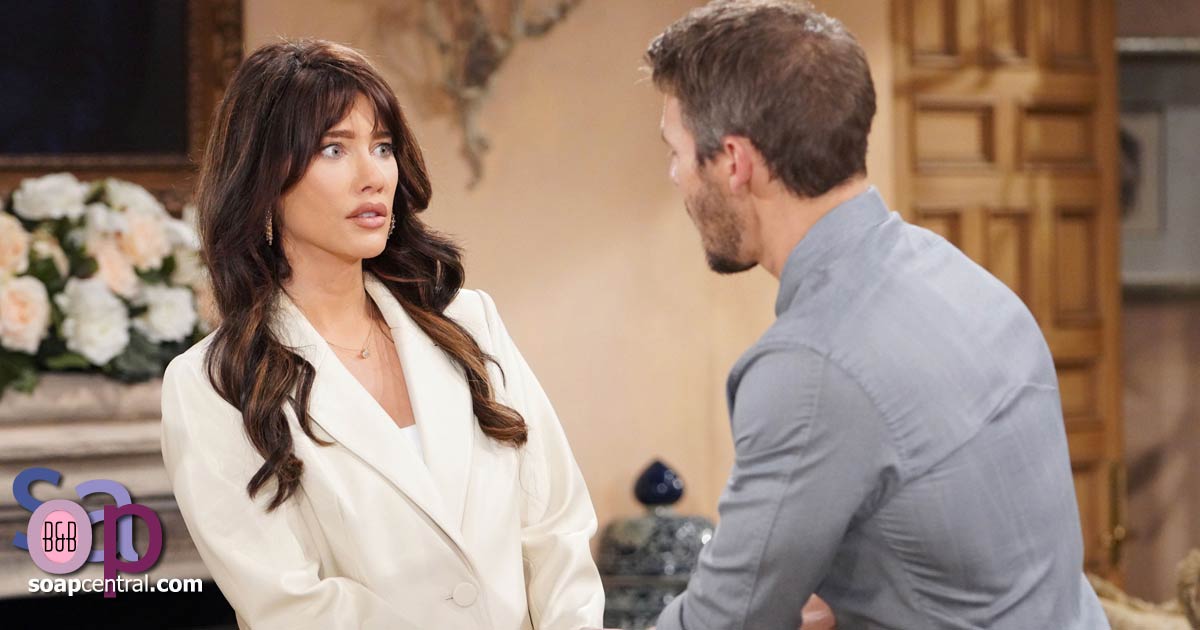 Liam reveals his feelings to Steffy
Wednesday, August 9, 2023
At Spencer, Liam told Finn that he couldn't tell Liam how to protect Liam's family. Finn replied that Steffy wasn't Liam's family. Insisting that she was, Liam stated that they shared a child, and as Finn said, their history ran deep. Finn asserted that she was his wife. Liam said that his respect for that fact wasn't the same as him respecting Finn's putting Kelly in danger.
Liam added that he and Steffy had agreed that they didn't know if Finn could keep the family safe from Sheila. Finn replied that he and Steffy would work through it, and Liam needed to stay away from Finn's wife. Liam figured it had to hurt being away from Steffy and the kids. Finn replied that Liam had no idea how much Finn loved Steffy. "I actually do. I know a lot about loving Steffy," Liam responded.
Finn ordered Liam to watch his mouth about Finn's wife. Finn refused to sit back and let Liam destroy Finn's family. Liam replied that he and Steffy had once been a family, shared a daughter, and had been in love. Liam said the feelings had evolved, but they hadn't magically disappeared. "Man, you have an ego! You're talking about my wife!" Finn yelled.
Liam insisted that, whether Finn believed it or not, "this" wasn't about Liam breaking up Finn and Steffy; it was about Liam protecting his family. Disbelieving it was about safety, Finn said Liam's marriage was imploding, so Liam was doing what he always did by running to Steffy, and that had been why Liam had shown Steffy the video.
Liam said he'd done that so that Steffy could make informed decisions. "Dude, you had your arms around the psychopath who tried to murder your wife, the mother of your child. This is the same woman you're telling me to stay away from? Where are your priorities?" Liam wondered. He asked if Finn really would have kept it to himself if the roles had been reversed.
Finn claimed that Liam had been going to Steffy ever since Hope started making eyes at Thomas. Not caring what Finn thought, Liam said he hadn't had an issue with Finn until Liam had witnessed Finn's connection with Sheila. Liam urged Finn to admit he'd messed up. Liam said Finn's choice to embrace Sheila physically and emotionally had put Kelly, Hayes, and Steffy in jeopardy. Liam asked why he'd let Finn continue to do that.
Finn called Liam obvious but said Liam was forgetting that Steffy loved her family with Finn and wouldn't walk away from it. Liam didn't doubt that but said Finn had put everything that she loved in danger because of a sick connection to Sheila. Finn insisted that he wouldn't allow Liam to take Finn's family away, and Liam needed to stay away from Steffy.
Liam replied that he'd heard Finn, but Liam wouldn't walk away, because Steffy was Kelly's mother. Finn seethed that Liam pretended to be honest but was toxic, using Finn's birth mother to manipulate Steffy against Finn. Liam replied that he was using the truth, which was the fact that Finn couldn't be trusted. Liam said that on top of it, Kelly had almost died.
Finn quipped that he was a doctor and saved lives every day. He said no one was more conscientious than he. "And guess what? Kelly's fine," Finn added and ordered Liam to stop using what had happened at the beach to go after Finn's wife. Finn refused to allow Liam to have a future with Steffy. Liam replied that Finn had never seen what Steffy and Liam had had, so it stood to reason that Finn didn't know. "But it was extraordinary, and I gave it up," Liam said. Finn replied, "And she's so much better for it." Finn said he'd been waiting for Steffy his whole life, so Liam needed to put thoughts of a future with her out of his mind.
At Forrester, Ridge and Steffy were working, but he wondered if she should be at work that day. Steffy, who'd needed the distraction, said she was running on adrenaline. She thanked Ridge for the beefed-up security downstairs. Ridge told her that he'd always be there for her.
Hope and Brooke arrived and were surprised that Steffy was at work with all that was happening with Sheila. Hope asked Steffy if she was okay. Steffy figured she might as well tell them because it would get out eventually. Steffy announced that she and her kids had moved in with Eric. "You left Finn?" Hope asked.
Later, Hope couldn't believe Sheila had saved Kelly. Steffy stated that Finn had said Sheila's presence hadn't been planned, but Ridge barked that Sheila always found a way back into Finn's life. Steffy said she'd moved because she'd do anything to protect her kids. Hope asked why Steffy felt that she had to protect the kids from Finn and if Steffy thought he'd hurt them.
Steffy didn't think Finn would intentionally hurt anyone. She remarked about the way Finn had hugged Sheila, and she was upset about what had happened at the beach. Steffy didn't think she could trust Finn to keep Sheila away, and Steffy would do all she could to protect her kids. Brooke said Steffy needed to protect herself, too, because Sheila had shot Steffy and Finn.
Steffy said there was a weird connection, and Sheila was in Finn's head. Brooke figured there was a maternal draw. Ridge stated that it put them all in danger, and they couldn't have it.
Hope was shocked, saying Finn and Steffy had been solid. Steffy said it had been that way until Sheila had reentered the picture. Steffy admitted that Finn's birth mother issue had been an obstacle for them, but it hadn't meant she didn't love Finn or want to be with him.
Brooke assumed Finn was devastated. Steffy agreed, saying she was, too. In her view, Finn was an amazing husband and father, and that hadn't changed. Ridge said Finn's weakness was his inability to stay away from Sheila. Steffy said it was terrifying. Ready to protect his family, Ridge left the office, saying he needed to have a conversation with Steffy's husband.
Hope said she was sorry Steffy was going through it. Hope figured she knew what it was like to have one's life implode, and she assumed Liam was concerned about Steffy and Kelly. Steffy replied that he was protective of Kelly, but Steffy's decision to leave Finn had nothing to do with Liam. Hope nodded but said Steffy had to know that Liam would be waiting in the wings.
Later, Hope and Brooke were working, and Hope said it was best that Steffy had gone to work from home. Brooke couldn't believe that Steffy had left Finn. Hope said that normally, hearing Steffy's marital problems would have sent Hope into a tailspin about her marriage, but it was a relief not to be bogged down in that drama. Brooke said Hope sounded as if she didn't care that her marriage was ending. Hope replied that she did care and had never wanted it for herself or her children; however, she couldn't live in regret and had to move forward.
Hope stated that she needed to be excited about something. Bringing up her line, she said she had many ideas and wanted to change the messaging. "And what if Liam wants to be with Steffy?" Brooke asked. Hope replied that it wouldn't be that easy, and there was no way Finn would give up his marriage without a fight.
In Finn's office, Finn asked why Steffy wouldn't text-message him back. Ridge arrived. Finn said Ridge couldn't tell Finn anything he hadn't already heard. "Let's find out, shall we?" Ridge suggested. Ridge stated that he'd trusted Finn with Steffy's happiness and safety, but Finn had failed on both counts. Finn offered to add it to the stack of problems he already had. Ridge said Finn had an attitude, but Ridge didn't get why. Ridge asserted that Finn had created the problem, Finn had allowed Sheila in, and Finn had put Kelly in danger. "What are you doing?" Ridge asked.
At Eric's house, Steffy was alone. Liam arrived, saying he'd just seen Donna leaving with the kids. Steffy apologized because she'd forgotten Liam had wanted to take Kelly that afternoon. Liam said it was okay because it gave them a chance to chat. Liam stated that he'd had a visit from Finn, but no blood had been shed. Liam claimed he was only bringing it up because he'd said something to Finn that Steffy should know about.
Steffy assumed it was about protecting her and the kids, but Liam said that hadn't been all he'd discussed with Finn. Liam revealed that he'd said he loved Steffy and knew a lot about loving her because he'd spent most of his adult life in love with her. Liam said they'd made Kelly out of that love, and one didn't just forget a love like that. Liam figured she hadn't forgotten it, either, and a love like that got into one's DNA. He said they were a part of each other, and that would never change.
Taking Steffy's hands, Liam said he wanted Steffy to know that he knew he'd been a fool to let her go, and if he ever got a do-over, he wouldn't make the mistake again. He would never let her go again.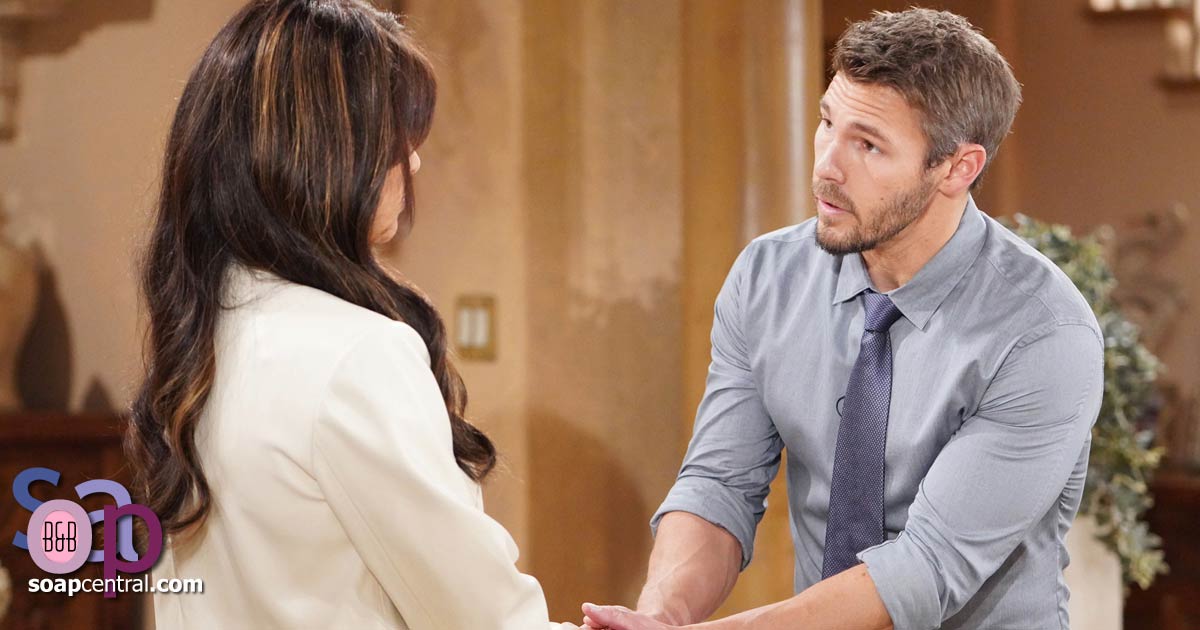 Liam makes his feelings for Steffy clear
Thursday, August 10, 2023
At Eric's house, Liam explained to a befuddled Steffy that he'd had an epiphany; he didn't have to deny his feelings for her or his history with her any longer. He acknowledged that he shared a life and a daughter with Hope, and it had been a love story of its own; however, "sadly, it seems like it isn't going to work out." Liam stated that he wanted Steffy to be happy, and if he got another chance with her, he'd never let her go again.
Steffy stated that she and Liam would always have a connection. She was shocked he'd said it to Finn. Liam replied that he wouldn't lie, and he wasn't good at lying. Steffy said Finn would never just stand by. Liam knew that. He said he was just making it known that "if" he ever had a chance with her again, he'd never take his eyes off her.
Steffy reminded Liam that they were both married, even though he'd signed divorce papers and she was separated from Finn. Liam claimed his feelings weren't a knee-jerk reaction to the end of his marriage. He was proud of himself for how deep he'd been able to bury his feelings for her, but he said that because of how things were, he got to look at her freely, without his Hope goggles. He could again see that force of a woman within her.
"Why the hell did I let you go?" Liam asked. He said he didn't know what the future held; however, if he got another chance, he'd hold Steffy tight and never let her go. He'd protect the kids and make her feel heard, respected, and loved.
In Finn's office, Finn claimed things were complicated. Ridge quipped that it was super simple when it came to a psycho like Sheila -- and maybe just dumb. Ridge had thought Finn had been smarter than that, but Ridge guessed not if Finn would turn his back on a girl at the beach to make a phone call. Ridge said Kelly had almost drowned because of Finn, but Finn was wondering why his wife had left him. Ridge stated that it was very simple.
Finn took responsibility for what had happened with Kelly. He admitted that he'd screwed up, and it wouldn't happen again. He added that at the courthouse, something had come over him. Ridge said he understood the birth mother connection, but Ridge asked Finn to look at what it was doing to Finn's family and relationship. Finn admitted that it was a problem, but he was confident that he and Steffy could solve it. The real threat, according to Finn, was Liam.
In Finn's view, Liam had made the video of the hug to cause problems. Ridge said Liam might have been concerned about Kelly and Steffy's safety. Insisting that the ultimate goal was Steffy, Finn replied that Liam losing his marriage didn't give him the right to make a play for Finn's wife.
Ridge told Finn to take some responsibility. When Ridge said it had nothing to do with Liam, Finn snickered. "Look at me!" Ridge yelled. Ridge stated that it was about Finn bringing his birth mother back into the mix. Ridge ordered Finn to exit his pity party and save his marriage.
At Spencer later, Liam flashed back to the beach day he'd had with Steffy when they'd been younger. Ridge arrived, saying he'd talked to Steffy and wanted to see what was going on. Liam and Ridge were in agreement, wondering what Finn had been thinking to hug Sheila. Ridge indicated that he'd talked to Finn, and Liam hoped Ridge had gotten through to Finn. Ridge said it didn't matter how Finn had received it. Ridge had said what he'd needed to say for his daughter and grandkids.
Liam reasoned that it should be no mystery about Sheila, but he'd taken a video of the hug because Steffy wouldn't have believed it otherwise. Liam stated that he wouldn't have believed it. He got that Steffy wanted to defend her husband at all costs. "I just made this mistake, so I get it," Liam said. However, Liam contended that they were dealing with a psychopath.
Ridge expressed confidence that they'd get Sheila behind bars, but he said that in the meantime, it was about keeping Steffy and her kids safe. Ridge asked if he was the only one who'd thought Finn was smart, but Finn actually thought Liam was the only problem. "Can I ask you something? How do you feel about my daughter? Really?" Ridge asked.
Back at Eric's house, Finn arrived. He was worried because Steffy hadn't answered any of his calls or messages. He missed his wife. Steffy said she missed him, too, but it was the best option for their family. Finn asked if Steffy would just hear him out.
Steffy was sorry she hadn't responded to Finn. She just hadn't known what to say. Finn asked about the kids and said he missed her. Steffy said that she wouldn't put the kids in danger. Insisting that he wouldn't hurt the kids, Finn asked if she knew what it was doing to him. Steffy said she was suffering, too, and their family was torn apart.
Finn wanted to work together to fix it, but Steffy said he had to realize that they were in that place due to Sheila. Finn validated Steffy's concerns about Sheila, but he shared his view that her moving out hadn't only been about Sheila. He believed it had also been about Steffy's ex-husband. Finn insisted that Liam was trying to suck Steffy back in, but Finn wouldn't let it happen. He vowed to fight for their marriage and make sure Liam didn't destroy their family.
"Because I love you too much to ever let you go!" Finn asserted. He said he could see it in Steffy's eyes that she still loved him, too. He refused to let Liam interfere or to lose her.
In the CEO's office, Hope asked Brooke what she thought of a design on a model. Brooke and the model were impressed, and the model said Hope and Thomas made an incredible team. Once the model had gone, Hope told her mother not to let what the model had said about Hope and Thomas get to Brooke because it didn't mean anything. Brooke nodded but felt she had to ask where Hope stood with Thomas.
Hope replied that Brooke had nothing to worry about because Hope's main focus was her line. Brooke noted that Hope was handling the divorce well. Hope claimed that it hadn't been easy, and she said she was trying not to let it get her down.
Later, Hope told Steffy that moving out had been a big step for Steffy to take. Brooke said she understood it in light of what had happened with Sheila and Finn and at the beach. Brooke just hoped that Ridge confronting Finn wouldn't worsen matters for Finn and Steffy. Hope replied that there had been no stopping the protective grandfather Ridge. Hope assumed Liam had vowed to look out for Steffy and the kids. Brooke said it was understandable because he was Kelly's father. Hope understood but said it was another reminder that Liam would always be a part of Steffy's life.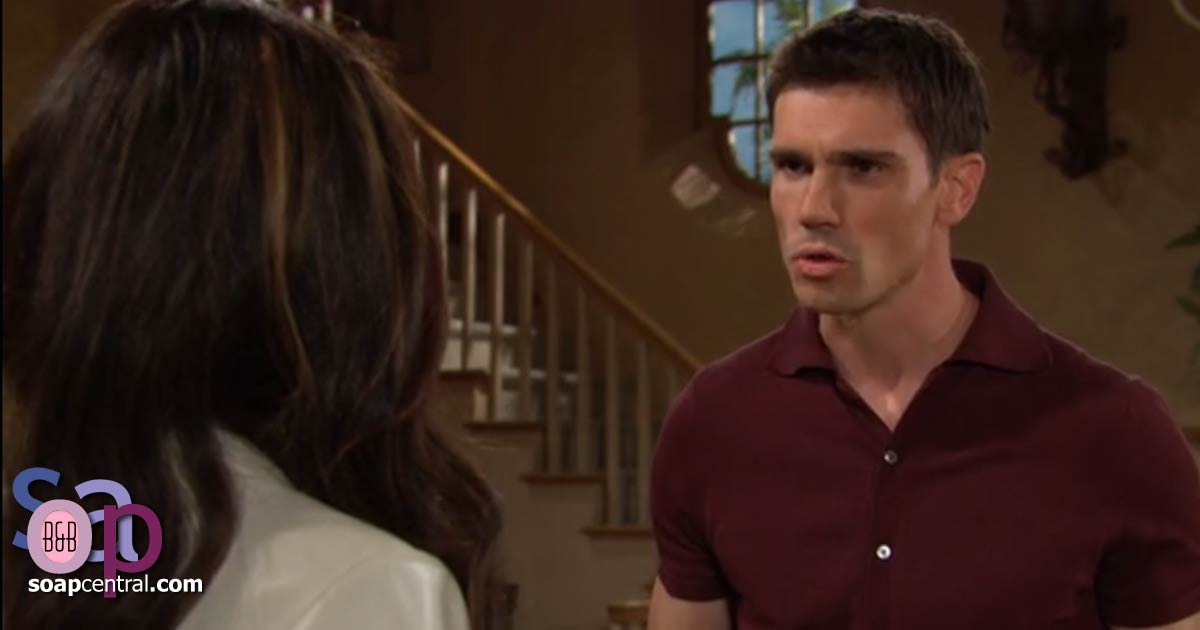 Finn pleads with Steffy to give him another chance
Friday, August 11, 2023
At Eric's house, Steffy and Finn shared the sentiment that they didn't want to be apart, but Steffy refused to put herself and the kids in jeopardy. Finn said he wasn't vulnerable to Sheila. Steffy wanted to believe it. Finn added that the real problem between them was Liam. Steffy replied that she'd moved out due to Sheila, not Liam, but Finn continued, saying Liam had professed love for Steffy to Finn's face. Finn was sure Liam wanted her back. Finn said she deserved someone who saw her as his one and only, and he implored her not to let Liam in.
Steffy insisted that it was about Sheila, not Liam. Steffy said Finn couldn't even explain his connection to Sheila. Finn replied that Sheila was his birth mother. "I don't care!" Steffy yelled, reminding Finn that the evil Sheila had terrorized the Forresters. Steffy asked if he thought it had been easy to take the kids and leave. Finn replied that she hadn't had to go.
"I had no choice!" Steffy replied. She insisted that it was her job to keep the kids safe, and Finn had conflicted feelings toward Sheila. It hurt Finn to know she thought he could be a threat to the kids. Steffy explained that she had so much anxiety about Sheila that she couldn't breathe at times. Finn said the thought of losing their family made him feel that way.
Steffy remarked that the slightest noise in the night sent her running to the kids to check if they were all right and make sure that Sheila wasn't trying to take them. Steffy didn't think she could let her guard down. She asked if Finn had seen Sheila again. Finn replied that he hadn't. Steffy asked if he knew that Sheila couldn't be in their lives.
Finn agreed and apologized for "all of this." He added, "But you gotta forgive me." He vowed to spend his life making it up to her. Steffy could see that she was causing him pain, but she felt she'd had no choice after seeing the video and after Kelly's beach incident. Finn said it had been terrifying for him, too, and he couldn't live with himself if something had happened to Kelly.
Finn said Steffy was right, and he'd been wrong to make Sheila out to be a hero and to ask Steffy to cut Sheila slack. Steffy shuddered, asking how he could have done it. He said he'd been caught up in the enormity of it, and he was sorry. Crying, he said he was most sorry for taking his eyes off Kelly. It haunted him. Steffy asked why Finn had hugged Sheila and if he wanted Sheila free.
Finn clarified that he believed Sheila should be in prison, and something had just come over him in the moment of the hug. He said Steffy had to know it would never happen again, and she was the love of his life. Finn stated that his world had been empty before her, and she had to give him another chance to prove she could count on him and that he'd put her first. Finn missed her, the kids, and their family. He said they'd been apart before, and he never wanted to be apart from her again. He asked her to return home.
At Spencer, Ridge conveyed to Liam that Hope thought that Steffy had played a big role in Liam's divorce, and Ridge asked how Liam felt about his daughter. Figuring that Liam should understand because he was also a father, Ridge noted that his daughter was scared, and Finn couldn't cut the cord. Liam assumed that Ridge was asking for Liam's intentions.
In Liam's silence, Ridge said he was protecting his daughter. Liam replied that he was doing the same thing. All Liam was thinking about those days was how to protect Steffy, Kelly, and even Hayes. It was wild for Liam that Finn had practically invited Sheila back into their lives. Liam hadn't had an issue with Finn before, but Liam didn't know how to let Finn near Liam's family.
Ridge said they were back to the original question. "She's alone now. She left Finn. So, are you thinking of reuniting?" Ridge asked and wondered if Liam wanted Steffy back. Unsure of how to answer Ridge, Liam said he didn't view Steffy and Finn's issue as an opening to move in on her, but Liam was sympathetic to Steffy and angry with Finn for putting her family in danger.
"Do you love her?" Ridge asked. Liam asserted that he loved her, of course, and always would. He admitted that he'd recently told her. "You did," Ridge replied. Liam said almost losing his daughter with Sheila on the loose was scary to him, too, and he'd wanted Steffy to know that he was around and would do anything to protect her. Ridge said Finn wouldn't like it.
Liam replied that Finn knew, and he didn't like it. Liam said he had no poker face or reason to hide it from anyone. "Do I want her back? I don't know how the hell I ever let her go," Liam replied. Ridge said that he could tell Liam the story.
Liam knew that Ridge could tell it. Liam said Steffy had changed his life and literally made him who he was. He claimed they'd kind of grown up together, and she'd taught him a lot. Steffy had taught Liam to embrace the adventure and know that half the fun was seeing where one landed. He stated that it had been as if they could see the life they'd wanted within each other, and it had been intoxicating to be desperately in love and nothing else mattering.
Liam said he and Steffy had learned how to hurt each other the most and what it meant to be hurt. He stated that he and Steffy had made mistakes, and the biggest one had been walking away and not trusting in the foundation that their love had built. Liam stated that he'd had that strong, smart, and beautiful woman in his life, "And she loved me, Liam, and I walked away."
Liam said he didn't know how the story ended, but he knew there was no chapter ahead where he'd make the same mistake again. Ridge shot back his drink. "Okay," he said and left.
"The Song That Never Played," sung by Scott Clifton, played over scenes of Steffy and Liam together as a couple. Liam seemed emotionally affected by the memories.
In the CEO's office, Skylar modeled a gown for Hope, who commented on the sustainable fabric. Skylar and R.J. flirted with each other as she left. Hope teased R.J., saying he should work at Forrester because of how well he worked with the models. R.J. replied that he didn't want to step on Thomas' toes, and he asked what was going on between her and Thomas.
Hope didn't think there was more to say. R.J. asked if she wouldn't fight for her marriage. She stated that they'd signed divorce papers, but he didn't see why she couldn't rip them up. Hope explained that it wasn't just about Thomas; it was also about Liam's unwillingness to fight for their relationship, his inability to forgive, and his love for Steffy. R.J. asked what Hope was talking about.
Hope explained that Steffy had always been a presence in Hope's marriage, and deep down, she'd always known Liam would always have feelings for Steffy. R.J. asked if Hope was saying that there was no chance for her and Liam. "I'm afraid not. Especially now that Steffy has left Finn," Hope replied.