Days of our Lives Two Scoops Commentary (2013)
Days of our Lives opinion columns from 2013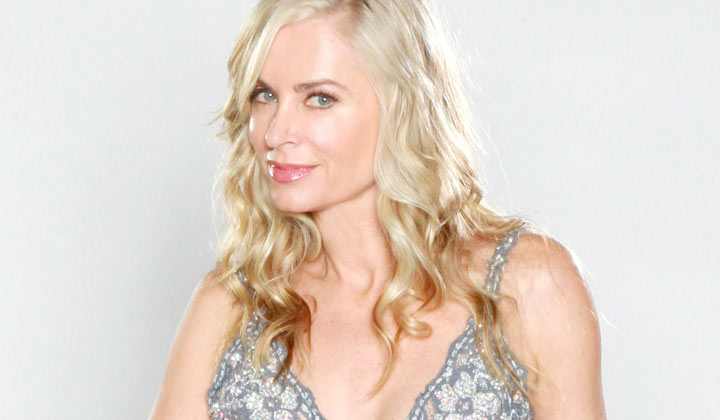 January 7, 2013
Kristen crafted a revenge masterpiece and then basked in the glory of her wicked work while watching John, Brady, and Marlena's lives explode around them. Plus, Sami remained stuck between two exes as Daniel got the shock of his life from one of his! It's time to kick off a new year with a new Two Scoops.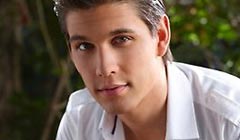 January 14, 2013
DAYS celebrated its 12,000th episode with a great Friday cliffhanger! Who's ready to cheer on Chad? Who wants to have a martini with Chloe and Nicole? And, just what is up with Rafe? Find out more in this week's Two Scoops.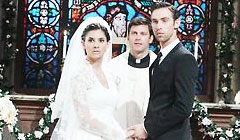 January 21, 2013
Nick and Gabi expected the perfect wedding day until Chad delivered a baby bombshell on the congregation. Plus, Marlena expected to one-up Kristen, but ended up going home broke, while Chloe struck Jennifer when she least expected it! Expect the unexpected in this week's Two Scoops.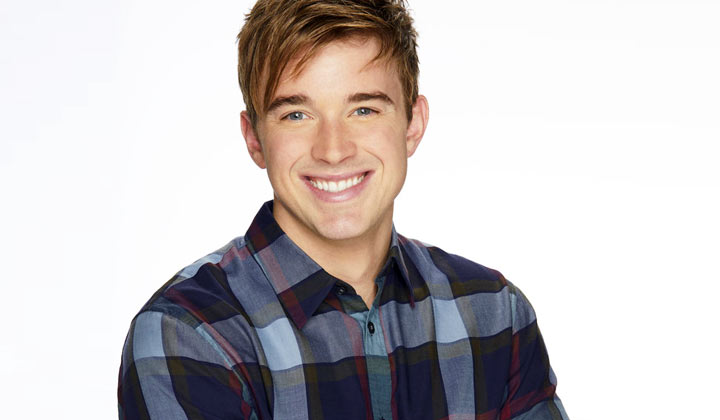 January 28, 2013
The momentum from the big paternity reveal continued through Salem. Chad embarked on an unnecessary apology tour. Will finally woke up. Nick steeped in his own crazy. And Sami was the voice of reason. Hey, it had to happen eventually! Find out more in this week's Two Scoops.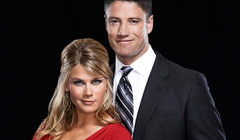 February 4, 2013
The claws were out in Salem last week as several sassy schemers slipped on their battle gear to wage war on their enemies. Read this week's Two Scoops to find out who came out on top and whose schemes simply sucked. Plus, Billie bid Salem adieu, Sonny said hello to a former would-be flame, and E.J. and Sami heated things up by finally reconciling!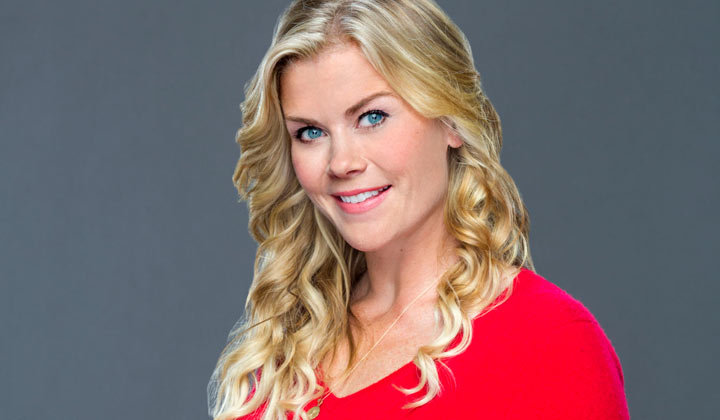 February 11, 2013
There's not a storyline on DAYS that isn't absolutely smoking right now! From reunited lovers to scheming geniuses, to forbidden love, it's all worth watching! Find out more in this week's Two Scoops.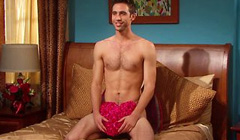 February 18, 2013
Salem got pretty steamy this Valentine's Day! While a nude Nick bared his, um, heart for Gabi on the East Side, Rafe and Kate got drunk downtown and then got down with each other. On the West Side, things heated up between Sami and E.J. Alas, neither Will nor Chad could stroll down Lover's Lane with their hearts' desires on Valentine's Day. This makes me wonder about Buddy Holly's lyrics. Is it so easy to fall in love?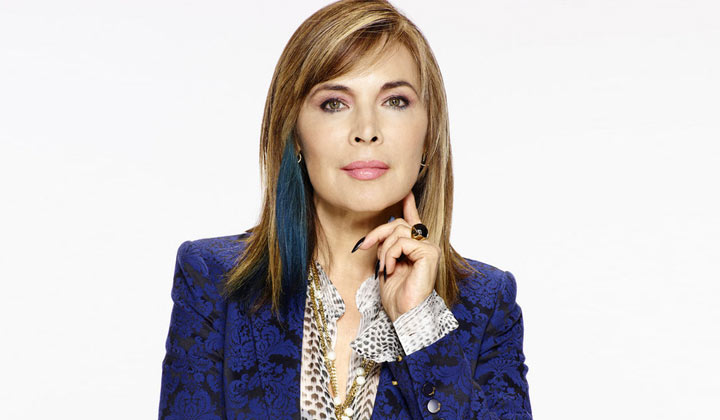 February 25, 2013
Just when it seemed that DAYS couldn't get any better, Maxine got a chance to shine (and a last name)! The two sides of Nick surfaced, Cougar Kate continued to pounce, and Gilligan's Island landed in Salem as DAYS blazed its way though February Sweeps! Find out more in this week's Two Scoops.

March 4, 2013
Salem was filled with a rowdy bunch last week! A nefarious Nick tried to strong-arm a worried Will into signing over rights to his daughter while a spirited Sami was left to take the blame. Cougar Kate kept sniffing around her prey, and others began to notice. Cunning Chloe and an annoyed Abigail cat fought! Queen of the jungle, Kristen, landed her latest trophy. "Wilson" finally reunited, and Sonny took a walk on the wild side. Learn all the rules of the jungle in this week's Two Scoops!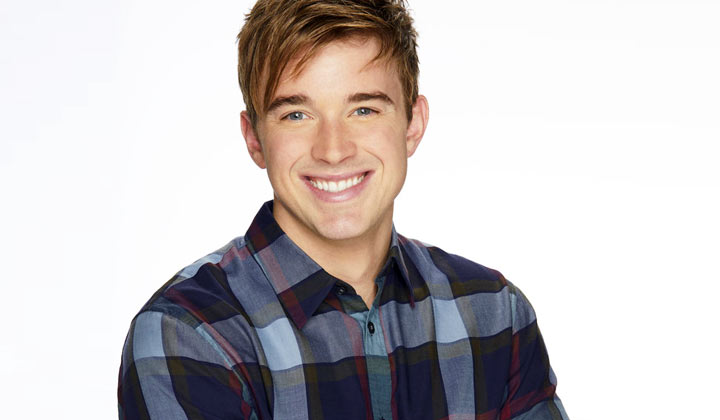 March 11, 2013
Nick's dastardly plan makes Will look like real a fool. Sami and E.J. make their case for supercouple status. Nancy returns to Salem, hating Hortons just as much as ever. And Kristen and Brady christen the DiMera mansion. Find out more in this week's Two Scoops.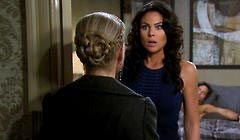 March 18, 2013
Salem sets a record for the longest night in history. Chloe and Nancy replayed the same scene over and over again. Kristen and Brady got in and out of bed. And Super Dan entered into and then awoke from a drug-induced haze, alert enough to take a stroll through Horton Town Square. Find out more in this week's Two Scoops.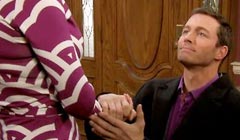 March 25, 2013
Sorry, Paris, but nothing is quite like Salem in the springtime! Dr. Dan and Jennifer swarmed like the birds and the bees, which stung Chloe. A fight with John blossomed into a proposal for Brady. And Sonny 'sprung' into action when Nick spewed more of his hate. Alas, Sonny is the least of Nick's problems this season as an old foe is back in Salem and is looking for a little comeuppance!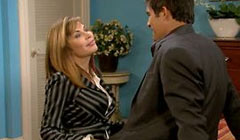 April 1, 2013
March ended with a lion's roar on DAYS! There were slaps, bruises, deals with the devil, (proverbial) ghosts, and jaw-dropping surprises. As a result some Salem residents are looking like April fools... and possibly May, June, and beyond. Find out who came out on top and who deserves the dunce's cap in this week's Two Scoops!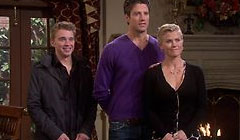 April 8, 2013
Will, Sami, and E.J. begin their deal with the devil. Chloe reserves her table in hell. And we all cheered on a ghost from Nick's past. Find out what else wicked this way comes in this week's Two Scoops.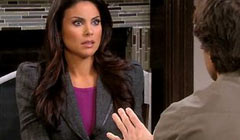 April 15, 2013
It's all over for the Chlomeister! Dr. Dan called out his ex on her all her lies, but that doesn't mean that she's given up quite yet. Meanwhile, Kristen hustled to keep her schemes afloat, Kate told a few white lies in an attempt to stop Gabi, and Will, Sonny, Sami, and E.J. met up to figure out how to squash Nick like a bug. Will, April showers lead to May flowers? The answer blooms in this week's Two Scoops.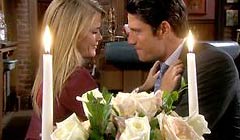 April 22, 2013
Will, Sami, and E.J. begin their deal with the devil. Chloe reserves her table in hell. And we all cheered on a ghost from Nick's past. Find out what else wicked this way comes in this week's Two Scoops.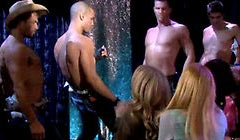 April 29, 2013
Strippers, seduction, and sex, oh, my! Nicole and Vargas got unholy on sacred grounds. Brady was distracted by office sex. And to avoid an even bigger scandal, Dr. Dan, Rafe, and Brady bared (nearly) all and shook their money makers onstage to help Cameron. Plus, while Nick talked more trash, Kristen went dumpster diving. Get all hot and bothered in this week's Two Scoops!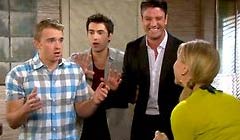 May 6, 2013
Have you ever been more excited for a group of people to succeed than you were for Team Will? Finally, Nick's reign of terror over the Salem empire looks like it might come crashing down. Find out how they did it in this week's Two Scoops.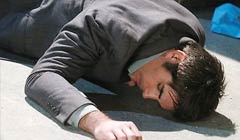 May 13, 2013
May Sweeps makes a mighty return to Salem, and, boy, was it random! There were deals made with devilish intent. A surprise return of a supercouple's son. Several back alley attacks. A shocking realization of love. And a crazy lady dancing like no one was watching. Find out what the heck's going on in this week's special Random Two Scoops!
May 20, 2013
Easy there, everybody. Salem survived just fine for 44 years without Rafe. So, tone it down before you really start looking desperate. Let me explain why this is a good thing for the entire soap universe, including St. Rafe of Hernandez, in this week's Two Scoops.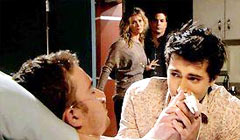 May 27, 2013
A tragic event brings new life to Salem, lets this Scooper officially make up with a Hernandez, and gives us one of the most il-Lumi-nating moments in DAYS history. You don't want to be lame and miss it, so race over to read this week's Two Scoops.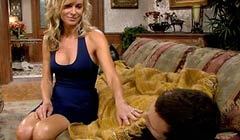 June 3, 2013
Why, fiddledee dee! May Sweeps done ripped through Salem and left a big 'ole mess to clean up. Who was left standing, and what will become of our favorite Salemites? Frankly, you should give a damn, and read this week's Two Scoops to find out, ya'll!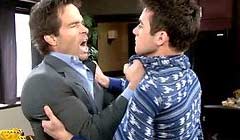 June 10, 2013
Kids are the worst. They vandalize cars, hide evidence, call you out on your paternity test switching, and have the nerve to make you reflect about what an idiot you've been. No wonder those little buggers get SORASed! Hurry up and read this week's Two Scoops because the kids aren't getting and younger.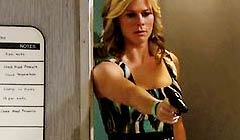 June 17, 2013
They say blondes have more fun, but some of Salem's fair-haired femme fatales didn't seem to be having a rip-roaring time last week. One walked away from her man. One wants a man she can't have. One committed murder for her former man's manhood. And one simply needs to be committed after losing it over a man. So, make a commitment and read this week's ambitiously blonde edition of Two Scoops!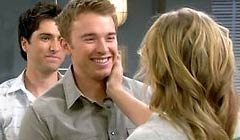 June 24, 2013
What's the best way to celebrate an Emmy win? Why, turn in another fantastic week's work of DAYS episodes. There's even a silver lining to Kristen drugging a priest and Adrienne trying to bully Will! Check out this week's Two Scoops.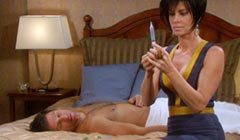 July 1, 2013
Well, if you can't trust a deranged diva with a desire to drug priests, who can you trust these days? Salem was abuzz last week with crazy citizens making one pledge after another, but figuring out which promises will be kept is the tricky part. There are no guarantees in this week Two Scoops.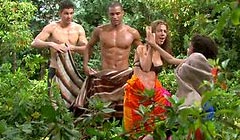 July 8, 2013
As the citizens of Salem celebrated the holiday, Sami got her freedom, Kristen pushed her battle plan forward, and J.J.'s behavior appeared to be a perfect imitation of his father. Did you miss any of the fireworks? Explore them all in this week's Two Scoops.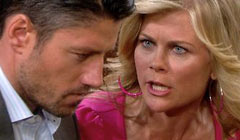 July 15, 2013
E.J. believed that his father didn't know best. J.J. didn't want his mother to preach. And Will and Sonny dealt with grief over their modern family. Find out which mamas and papas were singing the blues as their kids whined that parents just don't understand in this week's Two Scoops!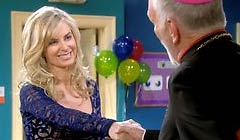 July 22, 2013
The summer for 2013 is shaping up to set a record high for magnificent DAYS storylines. So what's the secret to success? Danifer, E.J., Kristen, and Ejami all found the answer. Can we get Adrienne and Wilson clued in as well? Find out more in this week's Two Scoops.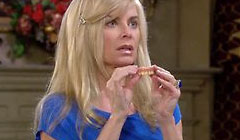 July 29, 2013
And they're back! Could a set of old false teeth mean the return of a whacky weirdo from days gone by? Also, Adrienne couldn't stop herself from flapping her gums, which had everyone exclaiming, "Shut up!" Will also opened up and said an awful lot to Justin. And it was like pulling teeth for Rafe to get answers from his loved ones. Read this week's Two Scoops to find out what all the chattering is about!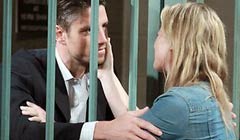 August 5, 2013
It was a hard knock life in Salem last week. While Sami stewed in the slammer, several of her loved ones worked hard to save her future. Chad, on the other hand, might not have one! And breaking casting news has your faithful Two Scooper in a slump. Put on 'dem blues and read all about it in this week's Two Scoops!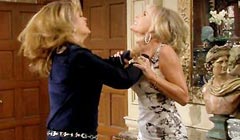 August 12, 2013
It turns out that putting one of its main characters in jail is the best thing to happen to DAYS in a long time. Who else should join her? What type of soap justice should come their way? Find out in this week's Two Scoops.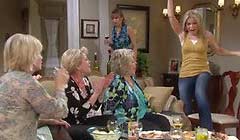 August 19, 2013
It was a high time in sleepy little Salem when Jennifer, Julie, Adrienne, Kayla, Nicole, and their uninvited guest Mary Juanna got together for book club! Plus, Sami's struggles in jail continued as Kristen grappled with a huge surprise that only a stork can bring. Is Salem's biggest sinner carrying the town saint's baby?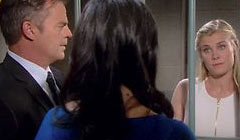 August 26, 2013
Sami's "impossible decision" is a complete no-brainer. Chad and Sonny have a grand opening. And two pairs of ex-lovers find themselves starting over again -- or not. Find out in this week's Two Scoops what decisions should be made.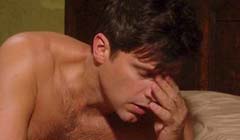 September 2, 2013
DAYS was full of million-dollar questions last week! Sami was asked to sell out E.J. Jennifer and Dr. Dan reflected on what happened to their relationship. Brady popped the question to Kristen. Eric wondered what happened to him in the capital. And Will had to wonder if Nick had changed his wicked ways. Find out all the answers in this week's tell-all Two Scoops!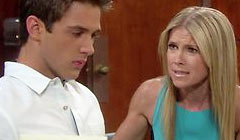 September 9, 2013
Salem's problem children were on full display. Gabi lost another round to her mortal enemy, common sense. J.J. acted like a real dope. And Sami geared up to go on trial for murder...again. Find out what happened to these kids in this week's Two Scoops.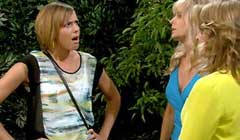 September 16, 2013
A pseudo-sauced Nicole saved the day for Marlena, but Ms. Walker was denied a spot at the cool kids' table despite her efforts. Will this schemer ever be part of the "in crowd," or is there a darker fate in store for her? Plus, Salem's most sensationalized trial began, and it didn't get off to a good start for Sami. Will Justin be able to save the day?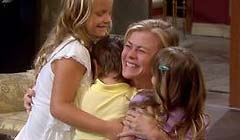 September 23, 2013
Hug it out, Sami fans. Our gal is home where she belongs. And she'll still sit atop the DiMera empire. But that empire may look a bit different now that Stefano is back in control. Find out what other changes took place in this week's Two Scoops.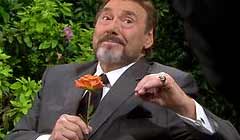 He may be sore about it now, but going back to his roots is the best thing to happen to E.J. since Sami. Should more DiMeras join him? And what other kids should head home too? Find out in this week's Two Scoops.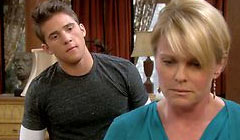 October 7, 2013
No one should dare flick their Bic in Salem these days as the town is on the edge of combusting! J.J. is on the verge of discovering the skeletons in Jack's closet, and it seems Mad Marge is on the brink of a breakdown. Oh, and Kristen realized that Marlena unwittingly holds the key to her utter destruction. Grab some aloe in case you get burnt because things are getting hot in here!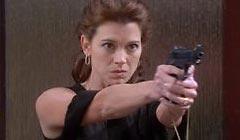 October 14, 2013
They say the truth will set you free, but J.J. may question that statement. Marge may also disagree. She couldn't handle truth, but she did handle a gun like an expert. Just who did she shoot? Find out about all the shattered lives in Salem in this week's Two Scoops!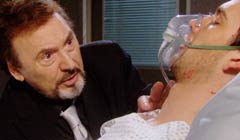 October 21, 2013
You'd think with all of their experience in law enforcement, the Bradys would know when someone has and hasn't paid for their crimes. Read the case for why their complaint about Stefano has been wrong for years in this week's Two Scoops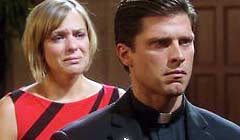 October 28, 2013
For fear that it may be pushed aside in favor of others that were bigger, louder, or special effects-ier, allow me to make the case that Eric and Nicole's heartbreakingly beautiful confrontation is one of the best DAYS scenes of the year. Find out why this scene was so stellar in this week's Two Scoops.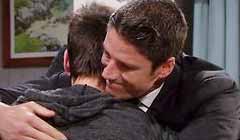 November 4, 2013
One saucy Salemite tried to convince everyone she's not lying. Another embraced his deception. Anne made it her goal to be the biggest bitch ever (mission accomplished)! And Marlena found a smoking gun, but will it be too hot for her to handle? Get ready to talk fibs, feuds, and fashion in this week's Two Scoops!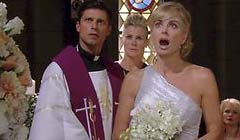 November 11, 2013
Move over, Sami. Kristen is the reigning queen of soap weddings gone wrong. And she's taking E.J. and Victor down with her. Read the case for why a wedding reveal with minimal bloodshed will go down as one of the most devastating ever in this week's Two Scoops.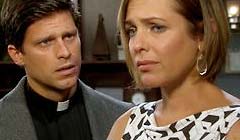 November 18, 2013
Salem's most powerful citizens collided in several epic battles, and no one came out unscathed. Who were the winners? Who were the losers? Who will be forgiven? And will the town every recover from the devastation left behind from Hurricane Kristen? Get the answers in this week's Sweep-sized Two Scoops!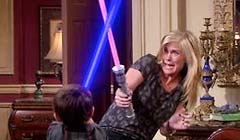 November 25, 2013
With Kristen missing in action, Salem is in the market for the next great villain to terrorize the town. Find out why Anne may actually beat out E.J., Victor, Nick, or Gabi for the title in this week's Two Scoops.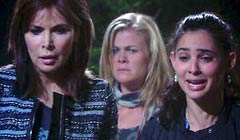 December 2, 2013
When Gabi found herself between a hard place and a rock, the tides turned for Nick, but was Salem's resident psycho swept away, or will he live to be crazy another day? Plus, now that Kate, Sami, and Gabi are three peas in a guilty pod, which one of them will split first?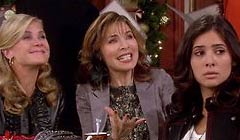 December 9, 2013
Sami and Kate are tired of being visited by spirits. But it may be Eric and Nicole who have the hardest time revisiting their past and changing the future. Find out more in this week's Two Scoops.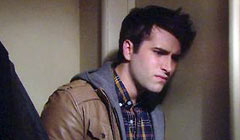 December 16, 2013
'Tis the season for secrets in Salem! Sonny learned a juicy tale. Brady and J.J. were both looking for a sale. Theresa was naughty, although Anne thought it was nice, and E.J. and Sami fought about their relationship not once, but twice!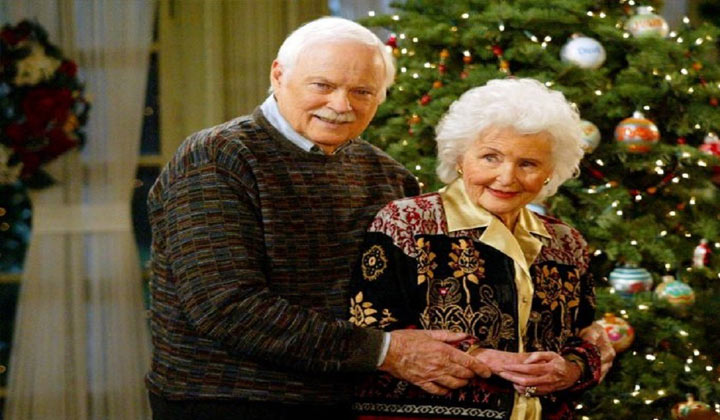 December 23, 2013
It's the biggest party in Two Scoops Land -- time to celebrate those who made Salem's 2013 nice list. Find out what doughnuts Kristen, Chloe, Chad, and Marlena are going home with in this week's Two Scoops.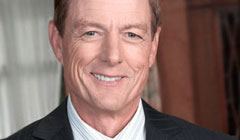 December 30, 2013
Forget the good! It's time to get bad and ugly with Two Scoopers Laurisa and Tony as they reflect on all not merry and bright in Salem, USA. Join them for the Seventh Annual Alex North Awards. If you dare!