DAYS executives have approached Jensen Ackles (ex-Eric Brady) about returning to Days of our Lives in early 2001. According to a source close to the show, Ackles declined the offer.
Ackles left Days of our Lives this past summer to pursue a development deal for a primetime series at ABC. Insiders have hinted that the development deal hasn't been going all that well and that Days execs hoped to lure Ackles back.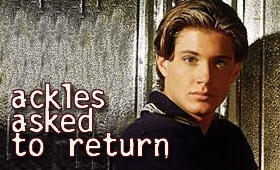 There were previous reports that Shane McDermott (ex-Scott Chandler, All My Children) had been approached to take over the role if Ackles refused to return. Executive producer Ken Corday quickly pooh-poohed that report and indicated that there were no plans to bring Eric back. Of course Corday reportedly was also holding out hope that Ackles would return.
Following are the results of a WT? On the Spot poll conducted on DAYS Online for a two-week period in November 2000.
If Ackles does not return, should Eric Brady be recast?
Choice
Votes
Approximate %
Yes. Eric is a vital character needed in Salem.
419
47%
No. I don't think that the role should be recast.
192
22%
I don't see a need to rush to make a decision.
142
16%
I really don't care what happens with Eric.
122
14%
Other
8
1%
Total Votes
883