Though rumors floating about insist otherwise, Alison Sweeney (Sami) is not leaving Days of our Lives.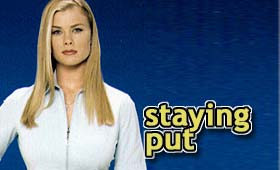 A message first popped up on the message board at Sweeney's official web site claiming that the actress had decided to leave the show because of a lack of storyline. The rumor apparently got started because Sweeney hasn't had much on-air time.
As a matter of fact, Sweeney isn't even negotiating a new contract; she re-signed a three-year deal back in March.
Sweeney does, however, take some responsibility for the start of the rumor because she says she never broke the news of her new contract to fans on her web site.
Sweeney joined DAYS on January 6, 1993.
---