An Australian soap star will replace newcomer Robert Cuthill as Days of our Lives' Colin.
Cuthill, who joined the cast of DAYS on July 27th, will make his final on-air appearance later this month.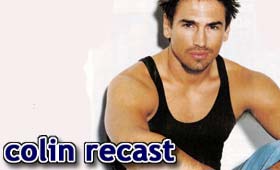 According to a published report, Cuthill may not have been surprised by his ouster from the fictional town of Salem. In a recent interview, Cuthill said that he had a nagging feeling that his days at DAYS might be numbered.
"I'm terrified of not being able to hang onto the job," Cuthill told Soap Opera Digest.
Fans of the show have been both critical and supportive of Cuthill. The biggest point of contention seems to have been Cuthill's accent. Colin is of Irish decent and some fans have grumbled that Cuthill's attempt to sound Irish fell flat.
Those fans better brace themselves for more possible accent controversy.
Justin Melvey, a veteran of the Australian soap Home and Away, will play Colin starting early next month. Obviously, Melvey will bring with him an Aussie accent.
There has been no official explanation from DAYS execs on why they decided to recast the role.