Though his final exit date isn't going to come for another few months, Soap Central has learned that Austin Peck (Austin Reed) will be exiting Days of our Lives.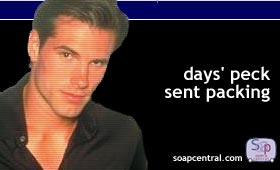 Newer viewers may not know that Peck, who joined Days of our Lives in 1995, is not the original Austin. Patrick Muldoon played Austin before Peck - from 1992 to 1995 - before venturing off to roles in Melrose Place and the motion picture, Starship Troopers.

"I am truly saddened by DAYS' decision not to renew my contract," Peck wrote on his official web site.

It has been rumored that DAYS has asked Muldoon, who reportedly doesn't have any projects in the works, to return to the show. In the past, Muldoon is said to have declined the show's offers. Now, however, some are questioning if Muldoon might be on tap to return - especially since Peck has officially been let go.

Peck will remain onboard through March, with his final scenes airing in April. A DAYS spokesperson declined to comment on whether or not the character of Austin would remain on the show's canvas after Peck's departure.