The uncertainty regarding the return of Billie Reed to Days of our Lives has just gotten a little cloudier. Lisa Rinna (ex-Billie Reed), the presumed "front runner" to reprise the role of Billie on DAYS, has landed a job that could very well prevent her from returning to the show.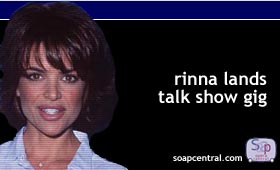 As reported by Soap Central in January, Rinna auditioned for a hosting gig on a talk show planned by the Disney-owned SoapNet cable channel. Shortly after the audition, Rinna revealed in an interview that she'd screen tested for the part. At the time, however, a SoapNet spokesperson declined to comment on Rinna's statement.
While the cable channel is not speaking officially, a SoapNet insider states that Rinna has, in fact, been hired to host the still-unnamed talk show. SoapNet plans to launch the show this summer.
Hosting a talk show is definitely a positive move for Rinna's career, but it seemingly squashes fans' hopes that she will return to Days of our Lives in the near future. DAYS executive producer Ken Corday revealed that he'd like to have Billie Reed written back into the show's canvas - but not if Rinna could only commit to taping a few days per week. Presumably, Rinna would be unavailable for the daily rigors of taping a soap while also taping a talk show. DAYS has also approached another former Billie, Krista Allen about possibly returning to the show.
Corday did not rule out the possibility that plans to bring back Billie could be scrapped if neither Rinna nor Allen are available.