Two-time Days of our Lives veteran Thaao Penghlis (ex-Tony DiMera; ex Andre DiMera) will return to the show later this year.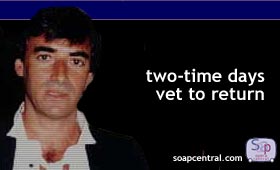 Penghlis' return to DAYS has been rumored for some time and the identity of the character he will play has been fodder for Internet rumors.
According to some message board postings, it will be revealed that Penghlis' character is actually Chloe's father. A DAYS spokesperson quickly denied the claims. Still more postings - which seem to have a bit more credibility to them - state that Penghlis will once again play a DiMera.
The last time DAYS fans saw Penghlis was 1996 when Tony DiMera was dying of a rare disease. His other alter ego, Andre, was seen drowning in quicksand in 1984.
A DAYS spokesperson declined to comment on Penghlis' return. An official first airdate has not yet been announced.