Though the news of Austin Peck's (Austin Reed) impending exit was first reported on Soap Opera Central over two months ago, fans of the actor might still not be prepared for the actor's final appearance on Days of our Lives. Peck's exit comes this week.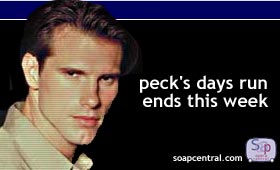 "I am truly saddened by DAYS' decision not to renew my contract," Peck wrote on his official web site.
Peck's exit is "storyline dictated," according to a show spokesperson. However, rumors that Austn -- the character, not the actor -- could return have been running rampant. Among those said to be up for the possibly-recast role are former Austin, Patrick Muldoon. Muldoon played Austin from 1992 through 1995, just before Peck assumed the role.
A DAYS spokesperson declined to comment on the reports that the role of Austin Reed would be recast.