After months and months of speculation about whether or not she'd be returning to Days of our Lives, Lisa Rinna (Billie Reed) has announced that she'll once again be leaving the program.
The announcement by Rinna came during the October 23rd episode of Soap Talk, a talk show the actress co-hosts with Ty Treadway (Troy McIver, One Life to Live) on the SOAPnet cable channel.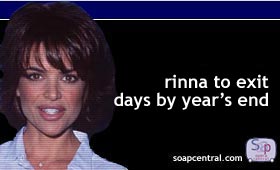 Rinna originated the role of DAYS' Billie in 1992, remaining in the part through 1995. The role was recast after Rinna left to pursue other opportunities, but Billie was ultimately written out of the show in 1999. Rinna returned to DAYS ion July 3rd of this after nearly a year of rumors hinting that the actress' return was imminent.
"I'm very blessed to have been back there and it was a fabulous experience. It's just time to move on," Rinna told the audience. Rinna will continue her co-hosting duties on Soap Talk.
According to DAYS executive producer Steve Wyman, Billie's exit was inevitable, hinting that it was the show's decision - and not necessarily Rinna's - to write Billie out.
"We reached the point with the character where the next logical step would be to break up Bo and Hope, but we didn't want Billie to do that," Wyman stated in an interview with TV Guide. "Lisa has been great; she's a professional and we wish her all the best."
Rinna's final airdate will be January 8th.