Executive Producer Ken Corday promised that 2002 would be the best year in Days of our Lives history. Corday believes that the show lived up to the hype -- but it was apparently not due to the recently seated head writing team of Peter Brash and Paula Cwickly. The pair has been removed from their posts as the show's top scribes.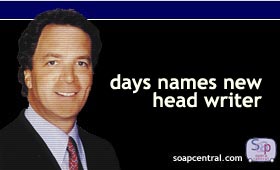 Brash and Cwikly joined the show as head writers in December 2001 after the surprising dismissal of then-executive producer and head writer Tom Langan. Brash and Cwikly will remain with the show, however they have been demoted to breakdown writers.
Dena Higley has been named the show's new head writer. Reportedly, Higley presented Corday with a long-term plan for the show rather than a mere outline of what might happen in the next few months.
An NBC spokesperson declined to comment on the changes at DAYS.