Days of our Lives' head writer James E. Reilly has promised that the mystery is not over. In fact, there are more killings on the way. And while viewers now know the identity of the killer, the on-screen sleuths have yet to crack the mystery. According to Reilly, the reveal that Marlena is the killer is just the first of three major surprises. The next shocker is slated for late-June, just before the Wimbledon tennis tournament. The third stunning reveal will come just before NBC breaks for coverage of the Olympics later this year.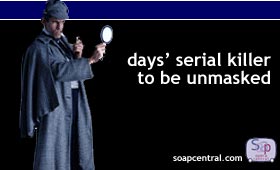 So that takes readers back to the original question posed in the second paragraph of this article. Why didn't Soap Central reveal the killer's identity? Soap Central is a site designed for soap fans by soap fans. It's not owned and operated by a huge corporate entity. Because of this, Soap Central tries to provide the coverage that is in the best interest of its valued visitors. While everyone wanted to know exactly who was picking off the residents of Salem one-by-on, Soap Central did not want to ruin the surprise for viewers. Imagine reading a murder mystery novel and skipping ahead to the last page of the book to read the mystery's resolution. The Internet is already under attack by network execs, who claim that sites such as Soap Central are luring viewers away from television. Soap Central didn't want to add any fuel to the execs' allegations.
"Soap Central could not operate if its viewers did not watch or were not interested in the soaps," explains SOC founder Dan J Kroll. "It would totally defeat the purposes of maintaining this site if we asked or demanded that people stop tuning in."
It was well-known that NBC execs did not want the killer's identity revealed. Soap Central honored that request even after the rumors of the killer's identity first started making the rounds on the 'net.
Adds Kroll, "Soap Central does provide storyline spoilers and [actors'] comings and goings, but there is a line of what should and should not be revealed. As a soap fan myself, there are certain things that I don't want to know. I like to be surprised. I like not to know what's going to take place."
"You'd be surprised the lengths I've gone to to not know certain storyline twists," laughs Kroll. "And no, it was never an excuse to slack off from my work!"
Soaps themselves have gone to extreme measures to keep certain aspects of their storylines a secret. The Bold and the Beautiful kept one if its stars hidden in a locked, out-of-the-way dressing room in order to keep her return to the show a secret. And it worked. Not even the media knew that the actress was back on the show.
Other soaps have taped scenes out of order to keep its stars in the dark about what is really going on. For a recent murder mystery of its own, As The World Turns taped several different performers doing the dirty deed. It turned out that none of the performers involved in those scenes were actually the killer.
So why didn't Days of our Lives take extended measures to keep the killer's identity under wraps? No one can really be sure, but it's safe to assume that show execs thought that they had taken all the measures that they needed. Is it possible to keep everything a secret from the media? We may never know - but in either case, you won't read it here.
FANS SPEAK
Thank you so much for not revealing that Marlena is the DAYS OF OUR LIVES killer. I think any true fan of the show wouldn't want to know this huge revelation UNTIL it was aired on the show. While several other soap opera related websites/magazines who call themselves 'fan friendly' revealed that Marlena was the killer, Soap Central did not. I hate learning about big twists or surprises before they air, and I cannot thank you or respect you enough for not spoiling the surprise just for more website hits like others did. Thank you, and I hope you will continue with this in the future.
- K.G.





RELATED STORYSpecial Report: Why DAYS launched its serial killer storyline -- and how it affects you.