Former Days of our Lives and Guiding Light cast member Richard T. Biggs has died. The cause of his death is currently under investigation. He was 44.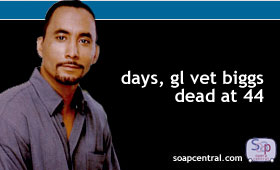 Biggs gained his first exposure in television on the NBC soap Days of our Lives. For five years, Biggs portrayed Dr. Marcus Hunter. Until last year, Biggs appeared in recurring capacity on CBS's Guiding Light, where he played Clayton Boudreau. Though Biggs was replaced by another actor, a show spokesperson indicates that the recasting had nothing to do with Biggs' health.
In fact, Biggs death surprised both his fans and co-workers. A posting on a "Babylon 5" message board by the show's creator, J. Michael Straczynski, stated that "paramedics who showed up suggested it was either an aneurysm or a massive stroke."
"Richard was a consummate professional, but more than that he was an honorable, stand-up guy," Straczynski also wrote in his posting. "He was, quite simply, a terrific guy, and everyone here is just devastated at the news."
Biggs is survived by his wife, Lori Kay Biggs and their two young sons, Richard James Biggs III and Hunter Lee Biggs.
In honor of Richard's most prized contributions to this world, his children, a special fund has been set up for their education. In lieu of flowers or gifts, please send donations to The Benefit of the Children of Richard Biggs II, Washington Mutual Bank, 840 N. San Fernando Blvd., Burbank, CA 91502.