In what is being seen as a major casting coup for NBC, Soap Central has learned that Billy Warlock (AJ Quartermaine, General Hospital) will be rejoining the cast of Days of our Lives later this year.

The past year-and-a-half has been a rollercoaster ride for Warlock. In December 2003, after more than six years in the role of AJ Quartermaine on ABC's General Hospital, Warlock was let go amid reports that he and show executives had gotten into a heated dispute. Officially, it was said that Warlock's exit was due to a "lack of storyline."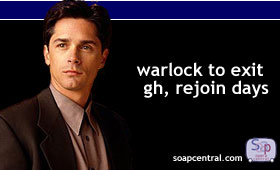 Earlier this year, confusion again ensued when ABC proudly announced that Warlock was returning to the show. Shortly thereafter, however, the network backpedaled and said that Warlock's return was on hold. Inside sources say that Warlock had agreed to return to the show, but balked at a contract offer made by the network. The two sides reached a deal and Warlock made his first on-air appearance on February 4th.

Now, however, comes word from Warlock that he will reprise the role of Frankie Brady on Days of our Lives beginning sometime in June. Warlock vacated the role of Frankie in 1991 after about four years with Days of our Lives.

The announcement that Warlock will eventually leave General Hospital has created a whirlwind of its own rumors. [See Warlock leaving General Hospital]

Officially, an NBC spokesperson told Soap Opera Central that the network has "no comment at this time."