DAYS Star Hall, Husband Announce Divorce
by
Dan J Kroll

Posted Sunday, March 20, 2005 12:24:49 PM

After 13 years of marriage, Days of our Lives star Deidre Hall (Marlena Evans) and husband Steve Sohmer are divorcing.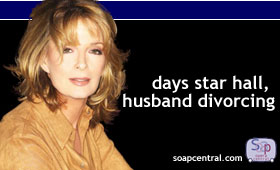 "As you can imagine, this is a truly difficult time," Hall said in a statement. "My primary concern is for my children and their well-being. I am deeply grateful for the sensitivity I have seen in many of your comments. Thank you for your caring and for continuing to respect our privacy."

Sohmer and Hall married in a spectacular December 31, 1991 ceremony at Sohmer's 17th-century home in England. The couple has two sons by a surrogate mother, 12-year-old David and 10-year-old Tully.

Hall joined the cast of Days of our Lives in 1976 and remained with the show through 1987, when she took a brief hiatus to pursue primetime projects. She returned in 1991 and has been with the show ever since. Last year the actress signed a two-year contract extension through August 2006.

RELATED STORY
Soap stars Jack and Kristina Wagner announce divorce plans.