Wayne Norhtrop is returning to DAYS, but not as Roman. What are your thoughts?

I have a hunch that Northrop will end up being Roman anyway.
43%
It will be confusing for me because Northrop IS Roman to me.
31%
It's great. Northrops a fine actor no matter who is portrays
10%
This is a bad idea. Couldn't they bring in a new actor?
8%
I wasn't a viewer when Northrop was on, so I can't say.
5%
I don't really have an opinion about Northrop's return.
2%
Other
1%
Poll Posted: July 13, 2005
Long-time fans of Days of our Lives may have to do a double take later this summer. Veteran soap opera actor Wayne Northrop will be returning to the show in August - but this time around he will not be reprising his previous DAYS role. Fans may remember that the actor played
Roman Brady
.
Northrop will tackle the newly created role of psychiatrist Dr. Alex North. Some fans, however, are wondering if Northrop's role will ultimately be revealed to somehow be the "real" Roman Brady.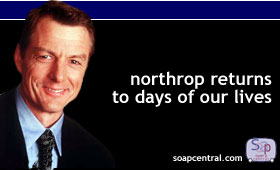 Northrop originated the role of Roman in 1981 and remained with the show for the next three years. The actor returned in 1991 before again departing in 1994. In 1998, actor
Josh Taylor
took over the role.
In addition to his work on Days of our Lives, Northrop also starred on ABC's
Port Charles
, where he appeared opposite real-life wife
Lynn Herring
(Lucy Coe). Other television credits include Dynasty's Michael Culhane.
Northrop is the third performer in recent years to reappear on DAYS in a new role.
Judi Evans
portrayed
Adrienne Johnson Kiriakis
from 1987-1991 and returned in 2003 as Bonnie Lockhart. Josh Taylor portrayed
Chris Kositchek
from 1977 to 1987 and, as previously mentioned, took over the role of Roman Brady in 1998.
Northrop debuts - or rather returns - to DAYS on August 1st.