What do you think of DAYS new online loyalty program?

I wish DAYS would pay more attention to its storylines than these 'extras.'
89%
I can win stuff just by watching DAYS? Sign me up now!
6%
It sounds cool, but it depends on how many points you need to get stuff.
3%
It might be okay, but I really have no interest in this sort of program.
1%
Personally, the whole idea sounds really dumb to me.
1%
Other
1%
Poll Posted: November 11, 2005
So what if you could be rewarded with autographed Days of our Lives memorabilia just by tuning into the show every day? It sounds like a soap fan's wildest fantasy, but thanks to the folks at NBC and Sony this fantasy has become a reality.
To help celebrate its 40th anniversary, Days of our Lives has launched what it calls "Daily Rewards," an online viewer loyalty program. In the "Daily Rewards" program, Days of our Lives viewers can earn My Sony points by correctly answering a trivia question for each day's DAYS episode. These points can then be redeemed for substantial savings on Sony merchandise such as the latest consumer electronics, DVDs, CDs, and more. "Daily Rewards" members can also redeem points for exclusive Days of our Lives fan experiences, as well as autographed memorabilia, props, collectibles and licensed merchandise.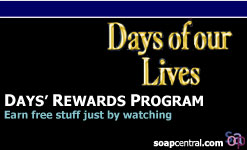 While this is not the first such loyalty program to be introduced - Wheel of Fortune has hosted its own "Wheel Watchers" program since 2003 - this is the first time that a long-term viewer rewards program has been established for a scripted series - daytime or otherwise.
"We are blessed and thankful that Days of our Lives fans are some of the most fervent television viewers and online participants in the world, and this innovative program will not only help us reward that loyalty, but continue to reach new viewers in the 18-34 demographic where we have enjoyed great success," said Days of our Lives Executive Producer, Ken Corday. "We're honored to be the first daytime drama to launch an online viewer rewards initiative in conjunction with Sony Pictures Television, who are pioneers in this area."
Viewers can sign up for the free "Daily Rewards" program by visiting
www.daysofourlives.com
.