Forget the plastic surgery; Days of our Lives' Philip Kiriakis will have a familiar look when he comes out of hiding. Jay Kenneth Johnson will return to DAYS to reprise the role he vacated just over four years ago.
Johnson left Days of our Lives in 2002 with an interest in pursuing a career in motion pictures. Unlike many daytime stars that leave their respective shows with a focus on Hollywood, Johnson already had one foot in the door upon leaving DAYS. Published reports claimed that Johnson had been offered a role in a major motion picture, but DAYS execs refused to let him out of his contract or provide him with a temporary leave to shoot his part in the film.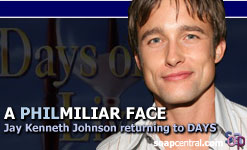 While a career in film eluded Johnson, he did find numerous primetime gigs since his DAYS exit. Johnson had a recurring role in the NBC sitcom "Scrubs" and also made a handful of appearances on the various CSI series. Johnson also appeared in a short-lived FOX primetime soap, North Shore.
In 2003, Days of our Lives opted to recast the role of Philip when Johnson was unavailable. Newcomer Kyle Brandt was given a chance in the role, but Brandt was slow to catch on with viewers and the actor did not renew his contract when it ended. He did, however, agree to stick around for several months to assist the show in wrapping up his storyline.
Johnson, who previously appeared from 1999 through December 25, 2002, will make his return on January 12, 2007.