Judi Evans (Bonnie Lockhart) exited Days of our Lives at the beginning of March, but the actress is already prepping for a return to the NBC soap. Evans learned that DAYS execs had future plans for her as she and the show's cast and crew gathered at her goodbye party.
Viewers may have to do a double take when Evans revisits the small screen because the actress will not be playing Bonnie Lockhart this time around - and there won't be an evil twin storyline involved either.
Newer Days of our Lives viewers may not realize that Evans' stint as Bonnie was not the first time that the actress had set foot in the fictional world of Salem. From 1986 to 1991, Evans appeared on the show as Adrienne Johnson Kiriakis. It is this role that DAYS execs have decided to bring back to town.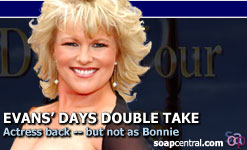 Though this time around Evans' stint is recurring and will last just a short time, there would appear to be the opportunity for future storyline. Adrienne is brought back to town as part of a major storyline involving her brother, Steve.
Evans tapes her first scenes as Adrienne on March 30th. These scenes are slated to hit the air on May 1st.