Joseph Mascolo (Stefano DiMera) has signed on to return to Days of our Lives next month. The news comes nearly six months after the actor nixed a return to the NBC soap because contract talks had reached an impasse.
Are you glad that DAYS is bringing back the DiMera family?


It's great news. The DiMeras add something special to DAYS.
45%
I like that the DiMeras are returning, but I hope the storyline is good.
28%
I want DAYS to focus on love not the gloom and doom of the DiMeras.
26%
Other
0%
I don't have an opinion about the return of the DiMeras at this time.
0%
I'm a newer viewer and not too familiar with the DiMera family.
0%
Poll Posted: May 7, 2006
When talks broke down last year, a show source indicated that the sticking point in the talks was the term of Mascolo's contract. Mascolo had wanted to return to work in a long-term storyline. Show execs, however, only wanted Mascolo to return for a short-term engagement. This time around the term of Mascolo's contract with Days of our Lives was not revealed. It is, however, known that the actor will be with the show through at least the summer.
Determined to tell a story with or without Mascolo, DAYS' scribes last year penned a story for Stefano but limited the character's on-screen exposure to shots that did not show the character's face.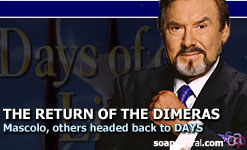 After leaving Days of our Lives, Mascolo surprised many by joining the cast of CBS's The Bold and the Beautiful in August 2001. Last year, however, Mascolo and B&B reached a stalemate during contract talks and the actor opted to leave the show. Again Mascolo cited his lack of work as the reason for his departure.
"Joe has not been happy with the direction of his character and the lack of story [for Massimo]," a setside source told Soap Central at the time.
Mascolo returns to Days of our Lives on June 6th. He appeared previously appeared from 1982 to 1985, returned briefly in 1988 before making a permanent return in 1993 and exited the show in 2001.