Emmy-nominated Days of our Lives veteran James Reynolds (Abe Carver) is recovering from heart surgery. The actor underwent heart valve replacement surgery on May 24th.
"Jim had pulmonary valve stenosis, a congenital disorder," a rep for Reynolds tells Soap Central. "It is one of the more common heart birth defects, occurring in about one of every ten children."
According to the Mayo Clinic, a pulmonary valve stenosis is "a narrowing of the pulmonary valve, the flap that separates the lower right chamber (right ventricle) of your heart from the pulmonary artery." A constriction, known as a stenosis, forces the heart to pump harder to push the blood through the valve.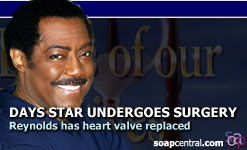 The 54-year-old Reynolds will be off of Days of our Lives for about six weeks while he recovers. He is expected to make a full recovery, as treatment is seen as highly effective.
Fans can track Reynolds' recovery on his very own blog site. Both Reynolds and wife Lissa will be updating fans on the actors' recovery at jrrecovery.com.