Miss USA Crystle Stewart will put in a guest appearance as herself on Days of our Lives this month. Stewart will appear as an Alpha Chi Theta adviser to Chelsea Brady and Morgan Hollingsworth.
In the episode, Chelsea and Morgan are working out at the Salem Health Club when they notice Crystle Stewart across the room. Morgan quickly points out to Chelsea that Crystle is one of their Alpha Chi Theta national chapter advisers and organized last year's Breast Cancer Awareness Walkathon at Salem University. Stewart, Chelsea and Morgan then enjoy a quick conversation about this year's upcoming walkathon, and Chelsea and Morgan tell Crystle they'll be rooting for her at the Miss Universe pageant. As you may expect, the pageant airs later this year -- July 13th -- on NBC.
Twenty-six-year-old Stewart is a graduate of the University of Houston. She was crowned Miss Usa in April. Hailing from Missouri City, the Texan's win was not merely a stroke of luck, but a testimony to dedication and years of hard work since she took home the elusive Miss Texas USA title -- on her fifth attempt. Ever dynamic, she has addressed crowds of over 1,000 people with her inspirational speech, "Waiting to Win," where she chronicled her personal achievements.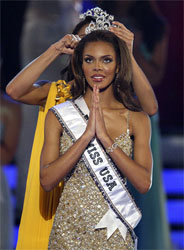 Crystle Stewart
In addition to being Miss USA and a teacher, Stewart is also an entrepreneur with her own company, Inside/Out, which she uses as a platform for public-speaking appearances, character development lessons and event planning. She also serves as a board member on the Trey Rice Education Fund and Houston Community College's VAST program, which assists individuals who have learning disabilities with educational opportunities.
Throughout her reign, Stewart will be a spokesperson for the official causes of Miss USA, which include breast and ovarian cancer education, research and legislation, a platform that is close to her heart. Stewart herself found a lump on her breast, which was eventually diagnosed as benign. Her experience is a testament to the importance of early prevention and looks forward to traveling nationwide as an advocate for organizations such as the Ovarian Cancer Research Fund, the National Breast Cancer Coalition, Susan G. Komen Breast Cancer Foundation and Gilda's Club, among others.
Stewart makes her special appearance on DAYS on June 20th.