Hundreds of thousands of American parents have a child with autism. On June 24th, a Days of Our Lives storyline sent Lexie and Abe Carver (played by Renee Jones and James Reynolds) into a tailspin with the news that their three-year-old son, Theo, is autistic. The Carver family will journey through the trajectory of shock, grief, acceptance and joy that an autism spectrum disorder diagnosis brings.

Inspired by the real life story of head writer Dena Higley's family, the story arc will explore the challenges of autism in a realistic and touching way. Like Theo, Higley's son Connor was also diagnosed at age three. He is now a 19-year-old preparing to go to college.

"We're telling the profound and life-altering story of a child with autism from his parents' point of view," Higley explains about this very personal storyline. "Their pain, their struggle - and ultimately, their ability to find life-affirming hope in the midst of learning how to live day to day with this disability."

Lexie and Abe will go through what all parents of autistic children go through, and their feelings and reactions will be respected.

"I want to just give them a sense of validity," explains Higley. "If you're sad, you have a right to be sad. If you're pissed, you have a right to be pissed. We validate every emotion that they're possibly feeling, and then we're saying don't give up hope."

Days of our Lives becomes the second soap to address autism in a prominent storyline. ABC's All My Children introduced Lily Montgomery, an autistic child, to its canvas in 1993. DAYS, however, will be the first soap to feature the diagnosis of autism and the effects of that diagnosis.

Despite her own experience, the idea of using autism as an umbrella storyline wasn't Higley's. "NBC was out there and talking about things we could do, autism came up. I told them a little bit about my situation and they said, 'Yes, do it'."

"I never would have pushed the story uninvited," she continues. "I knew that I had to dredge up some painful stuff, and Connor would have to dredge up some painful stuff."

Connor Higley has been a little taken aback by the attention and publicity, but is thrilled to share his story and be a role model for the thousands of autistic children who want to see the kind of success possible with autism.

"I did this," enthuses Connor Higley, "and here's my football pictures, and here's my track pictures, and here's my graduation picture. And you can do all that, too. It's possible."

Days of our Lives and NBC have partnered with Autism Speaks, America's leading autism advocacy organization, to get the message of hope out there.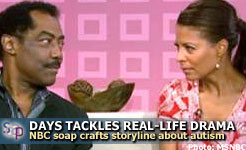 "This storyline realistically portrays the emotional trauma that every family faces when a child is diagnosed with autism, yet it also opens a window for viewers to see the hope and achievements that are possible as a family pulls together," says Alison Singer of Autism Speaks.

Autism has been in the news frequently lately as a health crisis whose cause and remedy is yet unknown. There are ten times more cases of autism diagnosed now than there were ten years ago. One out of every 150 American children is autistic; boys are four times more likely than girls to have the disorder.

The severity varies from case to case, with some autistic children and adults being very high functioning and almost indistinguishable from the typical population, and others being uncommunicative and sensitive to environmental factors to the point of being nearly shut down to interaction. However, all autistic people demonstrate some level of sensory difficulty, social interaction challenges, verbal and non-verbal communication issues, and repetitive behaviors.

Higley has a simple goal in mind from telling the story.

"I would love to raise up a generation of people who embrace the differentness of these kids," she says. "These kids don't sit still in class the same way, but you know what? These kids are being mainstreamed. And if you don't have a kid who has autism, you will have a kid who has an autistic kid in his classroom."

"I just want the sense of 'we can't pretend they're not out there anymore'," Higley continues. "Embrace the autistic kids that you're going to find in your lives now because it's a growing population and we isolate them or we love them. It's a choice, and Days of Our Lives is choosing love."